How to Develop a Strategic Mindset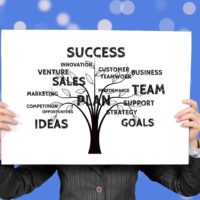 Running a business is one of the most difficult things that anyone can do. Over the years, the landscape of business has changed dramatically. Not only has technology made running a business easier, but there is more competition than ever before. Your business strategy is the biggest asset that determines the future success of your business. There are several things that you can do in order to develop the mindset that you need to have success. Although some of these changes take time to occur, there are certain steps you can take that will maximize success in your life.
Read About Your Industry
As a business owner, you probably feel like you have a solid grasp on your industry. However, it is always important to read about what is going on in your industry. With all of the changes that frequently occur in business, understanding the landscape of your industry allows you to make decisions with the future in mind. Some industries change more rapidly than others. Even if you have been working in the same business your entire career, it is always important to look for shifts in the market. The sooner you know about these shifts, the sooner that you can act to make changes in your business.
Think About the Future
As a business owner, it is easy to look at ways that you can make things happen right now. There are always problems that you have to manage, and you need to solve them quickly. However, true success in business comes down to thinking about the future and making decisions today to make that future easier. If you are ready to change the future of your business, thinking about your plans is the only way to do that. Every business owner should have a five and ten-year plan for their business. This allows you a path to take in order to reach your goals.
Invest in Your Business
Part of thinking strategically about business is investing your capital in the right areas. There are a lot of people who are excited about how easy it is to borrow cheap money in business right now. Interest rates are at a low point, and you can really make some big investments for little risk on your part. However, always think about the best places to invest in your business. This will allow you to take the right steps to have success in your business journey.
Hire Talent, Train Skill
One aspect of developing a strategy for your business is hiring the best talent that you can from the industry. The better workers you have in your business, the more success you will have over time. There are a lot of people who struggle to hire quality workers for a number of reasons. In some cases, you may have to pay people more than you originally wanted to. However, a quality worker will pay for themselves over the years. Always think about your future vision for the business when making hiring decisions.
Final Thoughts
Overall, one of the most important parts of success in business is developing a strategic mindset. As a business owner, you have to make a lot of decisions on a daily basis that impact the present and the future success of your company. Always make sure that you are learning as much as possible about the industry you are in. Over time, this will allow you to absorb knowledge and information in the best way possible. The steps you take today will put you on the right path for the future.
The following two tabs change content below.
Tresha D. Moreland, MBA, MS, FACHE, SPHR, SSBBP, founder of HR C-Suite, is an HR thought leader in Human Resource Strategic Management. She has held key human resource leadership roles for over 20 years in multiple industries most recently a senior vice president in the healthcare industry. Tresha is the founder and publisher of HR C-Suite (www.hrcsuite.com). HR C-Suite is a game changer results-based HR strategy website. It is a first-of-it's-kind site that organizes HR strategy based on desired business result. She has developed a business philosophy of integrating human resources with business strategy, thus creating a hybrid HR leadership approach. This approach enables the leveraging human resources to achieve business results.
Latest posts by Tresha Moreland (see all)
Donate To Help Others
Donate to Doctors Without Borders
Check This Offer Out