4 Ideas In Leveraging Internal Kindness To Help Those Affected By Natural Disasters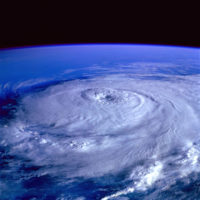 "It was calm for a few hours. We assumed a good story had passed us by. People called into radio stations from Miami, shouting about the ferocious winds. We debated toasting our first hurricane together with some beer. We opened our Comfort Inn door, and all was still. Until it wasn't.
The sounds were the first clues. Nearby electrical transformers started exploding, streaking the night with blue and green light. Then our power went out. Another hour passed. We could hear the sound of glass shattering and metal being sheared off the roof or scraping the pavement. A chunk of the motel roof flew off. We took a deep breath and dashed for the next room. A group of us huddled together. Flashlights and candles glowed. We talked a little but mostly listened to the hurricane's groans. When ceilings started leaking, we changed rooms.
But, like any good suspense story, the second half tumbled into terrifying."  Read the rest of the story here.
Most employers work hard at day-to-day operations, planning for new products or services, thinking strategically about competition or regulations. But there is one thing that skirts into our reality and makes all those other activities seem unimportant. Experiencing or watching others endure a natural disaster has a way of waking up our perspectives and remind us of what we all take for granted.
From hurricane Harvey drowning out Houston, a massive earthquake shaking the very core of the coast of Mexico, wild fires burning up the American West, and yet another monster hurricane called Irma took its aim, its time to pause and take stock of what we have and how we can leverage internal kindness to help others.
Here are 4 ideas in leveraging internal kindness to help others in times of need:
Give extra days off to help out
If your business is not directly impacted by a natural disaster consider giving your employees extra days off to help those affected out. If employees wish to volunteer let them help with clean up activities or help those in need with supplies.
2. Donate smart goods and supplies
Leave the used running shoes or ripped jeans in your closet, and check with local charity before you start gathering things not needed. Ask about food, water or other supplies that might be needed. Once you have a sound list of items consider an employee gathering drive campaign. In my experience employees tend to be the most generous when given opportunity.
3. Donate funds
There are a number of ways to donate funds. Consider a setting up an employee relief fund and match employee donations. Or launch a fund raising campaign and donate to the Red Cross. http://www.redcross.org
4. Pet rescue
I can't ever imagine having to leave my pets behind in the wake of a storm. But unfortunately many do not have a choice when uncontrollable circumstances force them to leave their pets behind. Consider donating to local shelters or to the Humane Society of the United States.
While thinking of taking care of others now is a good time to stop and consider your own disaster plan. Test out your plan and drill employees on procedures. Make adjustments to the plan if necessary to keep it fresh and top of mind for your employees.
Employers are a great force for leveraging internal kindness to help others affected by a disaster. Not only is it the right thing to do, but also your spirit and confidence in your employees will be renewed.
The following two tabs change content below.
Tresha D. Moreland, MBA, MS, FACHE, SPHR, SSBBP, founder of HR C-Suite, is an HR thought leader in Human Resource Strategic Management. She has held key human resource leadership roles for over 20 years in multiple industries most recently a senior vice president in the healthcare industry. Tresha is the founder and publisher of HR C-Suite (www.hrcsuite.com). HR C-Suite is a game changer results-based HR strategy website. It is a first-of-it's-kind site that organizes HR strategy based on desired business result. She has developed a business philosophy of integrating human resources with business strategy, thus creating a hybrid HR leadership approach. This approach enables the leveraging human resources to achieve business results.
Latest posts by Tresha Moreland (see all)
Donate To Help Others
Donate to Doctors Without Borders
Check This Offer Out