Five Things You Think You Know About HR Technology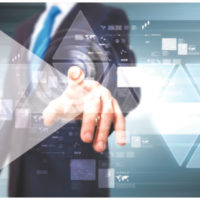 You know HR technology exists. But do you actually know what it's used for these days?
Too many HR professionals are accused of "getting too comfortable" – you know, finding their groove and then sitting in it. And if you still believe any of these five misconceptions about HR software, then you're guilty as charged.
A few of these myths may have been true 10 years ago. But isn't it time you pulled your head out of the sand, to see how HR technology has changed?
1.     HR software is only for companies with lots of employees
Once upon a time, HR technology was designed to support the recruitment, development and management of huge, multi-sited workforces. But as times have changed, more HR tech companies have been building products for SMEs, and even start-ups.
As a small business with just a handful of employees, you might not need an industrial-sized HR solution. But you could benefit from a lightweight, cloud-based HR tech companion, to help you keep on top of things.
HR technology designed for smaller businesses focuses less on large-scale "big data" crunching, and more on helping you push less paper, and on guiding you through shark-infested waters of HR law and legislation.
2.     HR technology will put me out of a job
If you read a recent article by Tresha Moreland, you might have noticed that certain jobs are at risk thanks to the rise of robots. Well, while robots can indeed automate many of the administrative aspects of HR – and while this is a large focus of many HR technology innovations of recent years – HR software still can't actually do your job for you.
In fact, rather than doing your job for you, HR tech actually helps you become better at doing your job. You'll be spending less time wrestling with holiday requests and spreadsheets, and you'll be spending more time developing strategic HR initiatives that have big, meaningful impact on the growth of your organisation.
3.     HR software will just add to my workload
One misconception many HR professionals have when they think about HR technology, is that it will add a whole new headache to their already time-pressured schedule. But while older, more traditional HR systems were indeed technological terrors that took months to figure out, more modern creations tend to come with more intuitive user interfaces that are pretty straightforward to use.
It is possible that you might need to devote a little bit of extra time to get to know your new software. But this will be re-paid many times over in time and efficiency savings for years to come.
4.     HR technology is too expensive for a small business
Traditional HR systems used to cost an arm and a leg. Taking this back to my very first point, this was because they were designed for large, often international, organisations.
If you are worrying about affordability, then it's probably because you're still in your earlier stages of growth. And I've got great news for you – there is a lot of HR technology out there right now that is built especially for you!
Get out there, do a bit of research, and compare a few quotes from different providers. The price will depend on what you're looking for, of course, but as an example, you can buy a monthly subscription to a cloud-based HR information system for as little as £1/$1.50 per employee per month from providers like peoplehr.com.
5.     HR software means we need to buy more PCs
If you still think you need a network of desktop PCs and a big old server room at your office in order to take advantage of any sort of commercial software these days, then it's possible you've been living in the desert for the last 10 years. But even out there, it's possible – albeit very difficult – to communicate with the outside world. So really, you have no excuse!
On-premise software solutions are still a "thing", but you certainly don't need to use them. There's a lot of HR technology available now that you simply access via your internet browser – whether that's Google Chrome on your laptop, or Safari on your iPhone.
The bottom line? HR technology is no longer the expensive, ugly and complicated beast it once was. It's not going to put you out of a job, either – at least, not yet. In the meantime, it will simply help you grow your business, and make an impact on your organisation's success.
The following two tabs change content below.
Tresha D. Moreland, MBA, MS, FACHE, SPHR, SSBBP, founder of HR C-Suite, is an HR thought leader in Human Resource Strategic Management. She has held key human resource leadership roles for over 20 years in multiple industries most recently a senior vice president in the healthcare industry. Tresha is the founder and publisher of HR C-Suite (www.hrcsuite.com). HR C-Suite is a game changer results-based HR strategy website. It is a first-of-it's-kind site that organizes HR strategy based on desired business result. She has developed a business philosophy of integrating human resources with business strategy, thus creating a hybrid HR leadership approach. This approach enables the leveraging human resources to achieve business results.
Latest posts by Tresha Moreland (see all)
Donate To Help Others
Donate to Doctors Without Borders
Check This Offer Out