HR Alignment for Value-Based Purchasing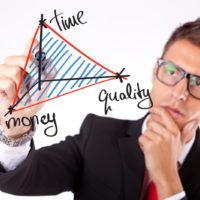 "The secret of change is to focus all of your energy, not on fighting the old, but on building the new." Socrates
The Centers for Medicare and Medicaid Services (CMS) ushered in Hospital Value-Based Purchasing (HVBP) in effort to reward providers for the quality of care they provide. This pay-for-performance structure is an external motivator for acute care hospitals to deliver low cost and high quality healthcare services.
Debates rage on about whether or not this is a sufficient driver for improved healthcare performance, let alone the overarching status of the Affordable Care Act in its current form. Regardless of the uncertainty coming from D.C., healthcare executives must remain on the quest to drive results of increasing quality of care at the lowest possible cost.
In the race to deliver value the top focus of most executives is on measurable operational drivers such as throughput, readmissions, mortality rates, patient satisfaction scores, cost per episode of care, average patient census, cost per adjusted patient day or discharge and so on. But in this quest, often what gets overlooked is the alignment of human resource strategies. Sure, there is a heightened awareness of recruiting and retaining skilled talent. But without a results based approach to people alignment, the quest to deliver value is strained at best.
How do we bridge the gap of people alignment to healthcare value delivery? Let's start with quality versus cost question and break it down.
Quality
Patient safety and quality of care persist as top priorities as they must be in the healthcare industry. In the age of health reform these priorities are thrust forward in a transparent fashion in this new consumer-driven era. However, pursuing the measurement of patient satisfaction and complying with regulatory requirements alone without people alignment becomes a meaningless and a frustrating activity.
Linking people strategies to the delivery of this imperative is what breathes life into best-in-class achievement. HR strategies that can impact this imperative include:
Reducing regrettable turnover:
Because of the strain of a long-term skill shortage, a common metric is turnover %. Often that number gets cut in many different ways from overall turnover, 1st year turnover or turnover within 90 days. Even comical some people in leadership positions will try to manipulate those numbers to fit a preconceived story. Instead of letting the numbers tell the reality based story.
Instead of wasting time on meaningless data or efforts try measuring regrettable turnover. Measuring regrettable turnover entails defining which skill sets are critical to organizational success. From there
Hiring for fit:
For an industry that has faced ever-increasing skill and talent shortages the very strong temptation is to post a job and pray that warm bodies with licenses come through the front door. But the prevailing thought is that leadership can deliberately craft organizational culture by hiring precisely the right skill and mindsets that will propel quality initiatives.
Key questions to ask: Specifically what skillsets are required to drive quality outcomes? Does your recruitment processes support screening specifically for ideal skillsets that will propel patient care and safety outcomes?
Rewarding for the right performance:
Creating a patient centric culture sounds nice but can become elusive if the right rewards are not in place for the right performance. Often organizations have in place the same compensation, rewards and recognition system for years if not decades. They are often in place to blindly attract and retain skills.
But these archaic approaches are now seen as entitled programs that are not connected to patient care outcomes or satisfaction. Granted those who have collective bargaining agreements may see this needle hard to move. However, there are strategic ways to nudge the needle if not a little bit each year.
Key questions to ask: Specifically what are the performance behaviors do you want to see consistently displayed? Are your compensation and recognition structures reinforcing or distracting from those behaviors?
What gets measured gets done. HR Metrics to Test for Alignment:
Regrettable Turnover: Measure the desired skill set that is leaving the organization.
Quality of Hire: Measure how fast the new hire gets to a state of optimal productivity and impact.
Compensation Dashboard: per department that includes a correlation ratio connected desired business outcomes.
Low Cost
Cost containment can go beyond just eliminating positions and reducing supply purchases. Human resources can be leveraged in analyzing and locating wasteful spending in its benefits, compensation, and pay and staffing practices. There are reports of organizations finding hundreds of thousands of dollars in savings by its human resources facilitating the auditing of its benefit plans and records, alone. Through these auditing practices, organizations may be able to find savings without compromising on coverage.
In addition, organizations can leverage human resources in correcting those cost containment opportunities from within the organization. These activities include facilitating real collaborative house-wide organizational efforts, managing reduction-in-force efforts, while mitigating risks that may lead to spending money on legal defense. By managing a non-punitive, truly engaging efforts, employees may feel open to sharing with you areas of opportunity for saving money.
However, punitive, singling-out efforts will only encourage employees to remain silent, costing the company cost containment opportunities that could have been realized. While cost containment findings may offer short-term solutions, being able to internally work together, identifying and self-correcting wayward practices is a step towards becoming self-reliant and viable in the long term.
Key questions to ask: How can we leverage technology to impact efficiency? What are our barriers to efficient throughput, and other patient connected processes? What archaic policies and pay practices are "run away cost programs" versus results based drivers?
What gets measured gets done. HR Metrics to test alignment:
Labor cost per revenue: This metric shows how labor cost intersects with revenue. This tracks the efficiency of labor in generating revenue.
Healthcare costs per active employee: This measures the cost of the health plan per employee.
Workforce productivity: This is a metric that is difficult to establish given the different types of departments with difficult levels of deliverables. However the organization chooses to measure productivity, strategic thinking HR professionals can experiment with practices and strategies that help support and optimize this metric.
How well healthcare organizations leverage both sides of the equation can deliver value. It's even more powerful when the people side of the business is all aligned going in the same direction.
The following two tabs change content below.
Tresha D. Moreland, MBA, MS, FACHE, SPHR, SSBBP, founder of HR C-Suite, is an HR thought leader in Human Resource Strategic Management. She has held key human resource leadership roles for over 20 years in multiple industries most recently a senior vice president in the healthcare industry. Tresha is the founder and publisher of HR C-Suite (www.hrcsuite.com). HR C-Suite is a game changer results-based HR strategy website. It is a first-of-it's-kind site that organizes HR strategy based on desired business result. She has developed a business philosophy of integrating human resources with business strategy, thus creating a hybrid HR leadership approach. This approach enables the leveraging human resources to achieve business results.
Latest posts by Tresha Moreland (see all)
Donate To Help Others
Donate to Doctors Without Borders
Check This Offer Out