What Does Productivity Mean to You?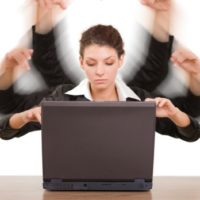 What does productivity mean to you?  Does it mean how fast you can get through the never-ending emails? Does it mean being prompt to every meeting? Or is it about how good you are at multi-tasking? Those factors may be a part of it, but there is a larger picture to be considered for Human Resource executives in today's business reality.
Labor costs are typically the highest expense on financial reports. During a recession consumers pull back on spending causing revenues to drop. Reducing labor costs is naturally among the first survival steps businesses took.  That fact combined with increasing regulations and an uncertain economic recovery many businesses are hesitant to hire.
Given that the unemployment rate remains largely unchanged it does not appear there will be any major job growth in the near future.  This means efficiency or "doing more with less" is going to be around for a while.  Productivity is a crucial word in today's business climate.
Historically productivity is a misunderstood concept.  Some managers think of it as making employees work harder. Or that it is only about engaging in a massive organizational restructure.  Or that it is about how fast you can get through emails.  A good definition of productivity simply put:  it is value divided by time.  Productivity can be influenced by either increasing the value or decreasing the time and cost that goes into creating the value (also called efficiency).  Organizational productivity is a business result that can positively impacted.
Here are 4 smart steps in how:
1)     Understand
In order to effectively impact productivity, first understand what it means to your workplace. The best way to know how your organization measures productivity is to sit down with finance or other leaders and ask questions. How is productivity measured? What all goes into the measurement? What are measurement influencers? You will begin to see a picture of key items such as staffing patterns, staff effectiveness, and pay programs factoring heavily into the calculation.
Industries define and measure productivity in different ways. For example productivity in healthcare one commonly understood and measured by "paid scheduled hours per patient day." Other measures may include net patient revenue per full-time equivalent (FTE) or FTEs per adjusted patient day. In a manufacturing setting it may measure cost per widget.   What ever way it is measured in your workplace take a minute, ask questions and seek to understand.
2)     Evaluate
Once you understand what factors go into your workplace productivity, evaluate with a fresh pair of eyes and clear mind, various factors such as pay policies, staffing plans, where time clocks are located compared to production areas, how people spend their time, rewards, and negative culture influencers that might impact productivity.  By negative culture influencers, I mean those individuals who actively discourage others from producing at high levels because they do not want to look bad or step up their own performance.
Evaluate your employee engagement levels. According to Gallup, "Highly satisfied employees often exhibit above-average levels of the following characteristics":
Customer loyalty (56 percent);
Productivity (50 percent);
Employee retention (50 percent);
Safety records (50 percent);
Profitability (33 percent)
While the great recession and ongoing organizational restructures took a toll on employees in the workplace, engagement activities such as involving employees in solutions go a long way towards improving productivity.
Also consider conducting a skill gap analysis.  According to the U.S. Department of Labor's Generating Productivity Growth Report, "Increasing the educational level of employees in an establishment by one year raises productivity by as much as 8.5% in manufacturing plants and almost 13% in non- manufacturing establishments."
"Evaluating" is not necessarily just about catching people doing things "wrong." It is also about identifying systems and processes and yes, even HR, payroll, time and attendance tracking practices that prevent ultimate productivity and performance.  For example, I've seen HR job posting policies, while well meaning, prevent timely and warranted promotions or efficient movement of identifying talent for vacancies.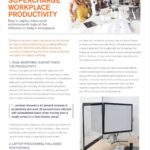 Featured Free Product
:
Top Three Tips to Supercharge Workplace Productivity
Enterprise decision makers are always on the lookout for ways to boost productivity by providing efficiency solutions for their end users. Make sure you've considered implementing the three simple productivity wins for today's workforce.
3)     Plan and take action
Once you have identified areas that could impact productivity establish a plan for implementation. Work on obtaining buy-in by partnering with other leaders. Strategize for collective bargaining negotiations if they exist. Plan on measuring impact of changes and monitor for continuous improvement opportunities.
4)      Sustain the gain
Continuously monitor progress. Don't fall into the trap of taking your eye off the ball when immediate goals are met. Things like "FTE creep" can happen if agreed upon standards are not enforced over time which can lead to disaster for the organization.
By implementing the "work smarter and not harder" concept employees will be able to endure the "doing more with less" and burnout will be less likely. When considering productivity and human resources, look beyond the question of how fast we can get through emails. Evaluate productivity at a higher level,  so that true financial gains can be realized.
The following two tabs change content below.
Tresha D. Moreland, MBA, MS, FACHE, SPHR, SSBBP, founder of HR C-Suite, is an HR thought leader in Human Resource Strategic Management. She has held key human resource leadership roles for over 20 years in multiple industries most recently a senior vice president in the healthcare industry. Tresha is the founder and publisher of HR C-Suite (www.hrcsuite.com). HR C-Suite is a game changer results-based HR strategy website. It is a first-of-it's-kind site that organizes HR strategy based on desired business result. She has developed a business philosophy of integrating human resources with business strategy, thus creating a hybrid HR leadership approach. This approach enables the leveraging human resources to achieve business results.
Latest posts by Tresha Moreland (see all)
Donate To Help Others
Donate to Doctors Without Borders
Check This Offer Out