How to Handle 5 Common Business Crises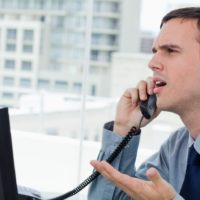 Running a company is no easy task. It requires constant oversight, effective management and the execution of multiple strategies. In addition, businesses are always at risk for suffering common crises. It's important to prepare yourself, your employees, and your company for any problem, whether that be digital, financial, legal, or personal. Here are strategies to help you handle five common dilemmas that all businesses have the potential to face.
1. Getting Hacked
As business is becoming increasingly reliant on technology, the chances of getting hacked are increasing. Furthermore, the impact felt from these hacks is becoming more potent as entire businesses are conducted online. Regardless of your business' technological involvement, it is critical to invest in appropriate safeguards to fend off potential hackers. Also, you should consider backing up all information on a hard-drive or cloud. When a hacking does occur, it's recommended to call a forensic team to investigate. These specialized "cybersecurity experts" can run the proper diagnostics to ascertain the weakness in your systems.
2. Lawsuit
Depending on the particular nature of your company, this crisis may or may not be a looming possibility. In the 21st century, it seems that business' can be sued for the most inane reasons. However, you must always be prepared to handle a potential lawsuit against your company. First and foremost, every company should invest in a reputable and trustworthy lawyer. You should engage with this lawyer on a regular basis to establish a good rapport. This also ensures that the lawyer comes to understand the intricacies of the business to better aid if a possible lawsuit arises. If a lawsuit does arise, contact your lawyer immediately and follow his instructions. Businesses shouldn't try to handle lawsuits on their own.
3. Financial Difficulties
Many companies run into financial difficulties at some point during their growing phase. Anything from a lack of sales to lawsuits can drain a company's capital. In difficult financial situations, you can consider utilizing payday advance loans. This form of loan is typically smaller and unsecured. Companies should only consider this option as a last resort. However, payday advance loans can help keep a company afloat when other sources of cash are obsolete. You should check the reputation of the loaner as well as their interest rates before making a final decision.
4. Personal Crisis
Despite consisting of countless employees, a company's reputation can be tarnished by the actions of just one employee. This has happened for countless years with sports programs, schools, television networks and more. At times, individuals within a company conduct their own scandal that can have a negative effect on the entire company. In order to handle this crisis, you must immediately sever ties with the individual in question. This shows both the rest of the company and the customer-base that your company will not tolerate and associate with negative behavior or people. It is also important to consult an online reputation consultant to see how the scandal could impact your business' online presence.
5. Lack of Sales
There is nothing more detrimental to your business than a sheer lack of sales. After all, the only thing that will propel a company forward is successful sales. When a company experiences this crisis, it is important to analyze the situation and determine the weak points. Often, companies don't market their products effectively to reach potential customers. You should also consider free methods of advertising such as social media that could yield an increase in sales without hurting your pocket.
While all of these strategies can help you overcome common business crises, the best defense is a good offense. In other words, you should actively work to protect against these potential crises before they occur. Regardless, having methods and strategies for dealing with them is always critical.
The following two tabs change content below.
Tresha D. Moreland, MBA, MS, FACHE, SPHR, SSBBP, founder of HR C-Suite, is an HR thought leader in Human Resource Strategic Management. She has held key human resource leadership roles for over 20 years in multiple industries most recently a senior vice president in the healthcare industry. Tresha is the founder and publisher of HR C-Suite (www.hrcsuite.com). HR C-Suite is a game changer results-based HR strategy website. It is a first-of-it's-kind site that organizes HR strategy based on desired business result. She has developed a business philosophy of integrating human resources with business strategy, thus creating a hybrid HR leadership approach. This approach enables the leveraging human resources to achieve business results.
Latest posts by Tresha Moreland (see all)
Donate To Help Others
Donate to Doctors Without Borders
Check This Offer Out