Use Big Data as the Key to Strategic HR Decisions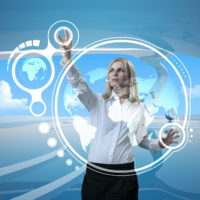 HR plays a huge and very important role in an organization. HR manager is responsible for a lot of things inside the company and make sure that the employee needs are met every time with no lapses. The main role and responsibility of an HR manager is to deal with, make, put into practice and manage policies and regulations of an organization, which are compulsory for every member of staff and also be familiar with its proper functioning. A capably operating human resources department can present a company with structure and the capability to satisfy business needs by the way of handling a company's most precious resources, that is, workers.
HR managers were once restricted to managing primary data work and everyday record keeping amid employees. However, their roles and duties have changed by a long way at the moment and they are now enjoying a better place in a developing nature of different labor force complications, legal responsibilities, and strategic running of the organizational objectives. Big data comes as an important factor to strategic HR decisions. Big data denotes the large amount of data including structured and unstructured. It influences a business on a daily basis. It is vital in strategic HR decisions because big data can be explored for insights that direct to superior decisions and tactical business progresses.
Here is a look at how to use big data as the key to strategic HR decisions:
Improve Operational Performance
Big Data is crucial to improve operational performance of a company. Big data in Human Resources seek to give details of the remarkable business chance that companies have to influence their employee data to get better operational performance. Big data influences strategic HR decisions as it lets organizations to be aware of the factors that lets to performance and retention, bring into play statistics to come to a decision who to hire, examine how pay connects to performance, etc. Big data will assist a company to bring into line workforce, HR metrics with HR intents, business tactics, and organizational aims. It will show a company how to execute HR metrics and workforce analytics to boost organizational results.
Help to Change the Business
Irrespective of the range of the business, big data in strategic HR decisions is developing into more and more advantageous. With big data in strategic HR decisions, managers are finding it effortless to keep the balance of the costs and profits of decisions as a result of enhanced HR infrastructures. A good number of companies around the globe have started to invest in big data as it is a great tool to aid to make their HR departments more data driven. Better data driven HR managers can come up with decisions that change the overall business of a company. Since, big data lads HR teams come up with data-driven decision-making every now and then, it gives them ample opportunity and potential to transform the business.
Improve Decision Making
The best feature of big data in strategic HR decisions is that it results in improving decision making. One of the effective means that HR can offer noteworthy contribution in a company is by improving decision making when it comes to human capital. Big data lets HR leaders to realize how to make biggest difference in the business, assess the business impact of high and low performance in workforce, examine the performance drivers, evaluate particular effects of HR programs, appraise the efficacy of organization design, review the cost and effectiveness of recruiting, developing, organizing and handling the employees, target inside and exterior the organization, lessen falling in line, avoid risk, enhance efficiency or workers and overall functioning of the firm, etc.
Improve Talent Acquisition
Another benefit of big data use in Hr strategic decision making is that it can improve talent acquisition. HR professionals require applying big data to talent acquisition and it helps them to understand the factors to look up to when they try to hire new employees. The organizations should make sure to improve the ways that they adopt to acquire talents and considering big data will aid them to make effective decisions. Without a doubt, data can help to make strategic recruitment marketing and provide organizations a competitive benefit in the business arena. The company and HR heads should be able to work out and realize what data is suitable to collect when it comes to talent acquisition. It will also let you to use the information to boost HR decision-making efficiency.
Other Points to Be Noted
For a person working in human resources, the use of big data assures a great transformation in the manner decisions are made. Companies are using a great amount of their HR resources and budgets on big data and analytics so as to get better the hiring practice, retain employees, and boost up business decisions. Big data can provide HR a better position in overall decision-making of a company and they can influence a company to best use big data in a way that matters. Big data assists firms to have a better understanding on how to load up their talent bench and also to make a decision how many candidates require being interviewed next time for a particular position.
Big data can help the HR leaders to recognize how to decrease recruiting timelines and expenses, calculate future hiring requirements, retain talent, and allow them to take part in strategic business decision making lively. One most excellent method HR leaders can bring into play big data to retain employees and keep away from loses of current employees is by collecting information on what's keeping employees are interested, attracted and decide to be around the company and why a number of employees opt to go away. Big data lets HR departments to know how to repeatedly assess employees and understand their needs.

The following two tabs change content below.
Tresha D. Moreland, MBA, MS, FACHE, SPHR, SSBBP, founder of HR C-Suite, is an HR thought leader in Human Resource Strategic Management. She has held key human resource leadership roles for over 20 years in multiple industries most recently a senior vice president in the healthcare industry. Tresha is the founder and publisher of HR C-Suite (www.hrcsuite.com). HR C-Suite is a game changer results-based HR strategy website. It is a first-of-it's-kind site that organizes HR strategy based on desired business result. She has developed a business philosophy of integrating human resources with business strategy, thus creating a hybrid HR leadership approach. This approach enables the leveraging human resources to achieve business results.
Latest posts by Tresha Moreland (see all)
Donate To Help Others
Donate to Doctors Without Borders
Check This Offer Out