6 Workplace Changes to Get the Most Out Of Your Team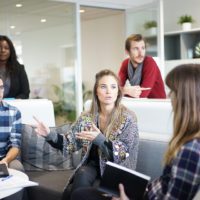 Nothing helps organizations succeed like well-organized and productive teams. Every team leader must make sure that teams in their department have everything they need to improve their performance. Here are 6 changes you should implement in the workplace to help managers make the most of their teams.
Make smart hiring decisions
Developing a hiring strategy that brings onboard people who share the essential values and culture of the organization is a serious factor that contributes to the success of the entire company.
The right person brings not only a skill set or knowledge but personality that can drive forward the company's vision. That's why the hiring and interview process should include vision and values as its critical aspects.
Candidates who interview with their future teammates and managers will have more success right from the beginning. It's simple – candidates want to be in a workplace that it fits tightly to their preferences and core values. Developing a strategy for smart hires in a win-win situation.
Develop and streamline processes
Help teams boost their productivity through the right process and workflow. Streamline collaboration processes between different teams and departments to maximize their productivity and reduce glitches.
Breakdown of silos and barriers that hold different groups of employees separate is a smart move. For all your teams to work efficiently, they need to share a vision of a common goal and have full awareness of how they are contributing to that goal. That's how innovation happens.
Look around the market to find the right project management tool for your teams – a software solution such as Jira or Trello will help you hone the existing processes and roles for higher productivity.
Communicate objectives
If you want every single team member to give their best at work, you need to make sure that they know what is important to the organization and what type of excellence the company aims for.
To boost team performance, you need to instill a sense of intrinsic motivation in team members.
And for company targets to become meaningful and useful in motivating people, you need to tie goals to the broader organizational objectives. Make sure to communicate these goals on a regular basis.
Build commitment
By concentrating on vision and values of the company, you will be able to build a culture that celebrates the dedication to that vision and motivates employees.
If you spot an employee who goes the extra mile and takes risks when implementing new ideas, you should recognize them for their contribution. Make sure that employees feel that their ideas and concerns are being received by leaders and that they are an integral part of the decision-making process.
That's how you will build a sense of commitment – employees will feel more motivated when they get a sense that they're all truly part of the organization.
Foster open communication
Instead of relying on an annual survey, promote open communication and implement solutions to create a regular feedback line between employees and leaders. You can use suggestion boxes, team meetings or employee surveys.
Create an atmosphere where employees feel that they can express their ideas and points of view without criticism. If they raise any concerns, make sure that leaders address them in the best way they can. Employees need to feel that they are being listened to – only then they will be able to give their most in realizing your organizational vision.
Empower your team
Involve team members in resource allocation to create a spirit of collaboration when vital decisions are being made at the company. When resources are managed by people who are most knowledgeable in the area, you can be sure that to get the most accurate results.
Empower team members to use resources in a way that enables them to carry out the company's mission. If they propose a change of priorities and present you with metrics to back their case up, hear them out and take their opinion into account.
Use these strategies to instill a greater sense of motivation in your teams and take their productivity to the next level.
The following two tabs change content below.
Amelie Mahone is a loving wife and a mother of 3. She loves to read about history and write articles on various topics, such as: business, education, history, teaching. Amelie is a Communications Specialist at
Spacer
– a sharing community website where you can rent or find space.
Latest posts by Amelie Mahone (see all)
Donate To Help Others
Donate to Doctors Without Borders
Check This Offer Out