How To Utilize Social Recruiting To Find Top Talent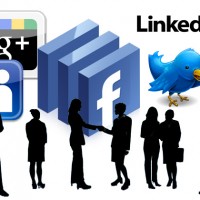 Nowadays, social media is widely used for networking with your friends and family. Even commercial pursuits have found a great avenue in networking online. This includes social recruiting which is about engaging with users, and using social media tools to source and recruit talent.
Both employers and potential employees can benefit from social recruiting as it's a cost-effective way for both parties to gain exposure. Candidates who are active on social media tend to be enthusiastic about what they do, and HR executives who recognize their potential can make a beeline to recruit them.
Why Should Employers Use Social Recruiting?
Some employers shy away from social recruiting because they see it as a little more than a way for potential candidates to flood their inboxes with resumes or other information that are uninvited, but this attitude will prevent employers from fully exploiting the power of social recruiting. The reality is that social media is the premier method for managing digital connections today.
Many employers today know that hiring new talent is not a cheap process. Looking through resumes, setting up and conducting interviews is time consuming, and having to replace workers is even more so. Social recruiting is a great way to reduce costs and cut down time because employers can look through the social media profiles of potential candidates to determine if they are a good fit before going through the process of setting up an interview.
How to Do Social Recruiting on Various Social Media Sites
Whether you are a recruiter or an employer who is taking charge of the hiring process, learning good social recruiting practices can help to further your cause. Here's a look at what you can do on popular platforms:
With over 400 million users, Facebook is one of the best places to recruit top talent. There are a few ways you can recruit potential employees here. For example, it can be as simple as posting a status on your timeline. Since it is likely that you have professionals in your field as your friends, they might be able to share your status with aspiring job seekers.
You can also set up a Facebook Page for your business and write a recruitment post. It is also easy to search for related Facebook Pages to find new talent for your business. Another option is to use the Facebook Marketplace where you can post a free job posting but note that it isn't possible for you to target a specific niche of job seekers. If you want to go one step further, then you can utilize a paid Facebook Ad where you can specify the age, gender, and interests to display the job search ad to individuals that fit your selected criteria.
LinkedIn is a social media site that focuses on building professional connections, and is widely utilized for social recruiting. When you use it for the first time, it's important to build connections to people you already know. Once you build a community of niche-relevant connections, you can simply use your status box to broadcast that you are hiring, akin to how you will use a Facebook status.
You can also opt to join a group where you might actually find top talent. For example, if you run a financial investment agency, join a relevant group and stay updated with the discussions there. You might notice enthusiastic individuals who show a good knowledge of financial investment in their comments. Connect with such individuals and who knows, they might just be looking for a job! There are more advanced LinkedIn tools that you can make use of, such as the paid job listings as well as the LinkedIn Talent Advantage which is a dedicated set of tools for professional recruiters.
Twitter has an easy-to-use interface, though many will argue that they might not be so effective for social recruiting as compared to Facebook or LinkedIn. Set up a Twitter page for your business and find relevant people to follow (use specific key phrases to narrow down your search). Once you have a good network of connections, you can simply send out a tweet to recruit talent.
The best thing about Twitter is its creative use of hashtags so in your recruitment tweets, so make sure that you include in powerful hashtags such as #NAJ (lingo for Need A Job), #recruitment, #recruiting, #job, and more to attract the right attention to your recruitment tweets.
As you can see, doing social recruiting isn't difficult. Institutions that are willing to tap into the power of the social media platforms will discover uncut diamonds, while those who resist may find themselves falling behind their competitors in the hiring process.
The following two tabs change content below.
Mona works for a
contract recruiting firm in Kansas City
and loves how social media has made the recruitment process more multi-faceted. She has also provided free webinars to help educate people about the power of social recruiting.
Latest posts by Mona West (see all)
Donate To Help Others
Donate to Doctors Without Borders
Check This Offer Out