Why HR Professionals Must Use RSS Readers: 6 Strong Reasons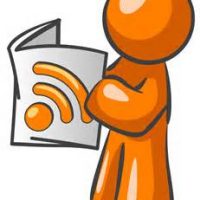 HR professionals must keep themselves fully up-to-date with the latest news, research work and newly introduced tools related to their particular industry because when they are well-aware of everything happening around them, they can improve their performance and prove themselves to be more productive for their businesses. However, HR pros have lots of responsibilities on their shoulders and usually have no time to read blogs and other online stuff. That's why most of them often wonder how it is possible to get everything done on regular basis. The simplest answer is "the effective use of Technology".
Remember that technology should never make things difficult for the users but it should be used to get things done more easily without wasting time. There are a lot of tools used by professionals on everyday basis to help them stay updated with whatever is happening around them in their particular industry and one of such popular tools is called RSS reader which can bring lots of ease for HR Professionals.
What is an RSS Reader?
Haven't heard about it before? Well , then you must be wondering what it is and why you should be using it. RSS reader simply means "Real Simple Syndication or Rich Site Summary". While visiting a website, you must have seen orange buttons but if you did not know about it, you must have ignored it. Next time when you see an orange button on a website, it is an indication for you that the site has RSS feed.
HR C-Suite RSS feed can be subscribe to at www.hrcsuite.com/feed.
Why HR Professionals Use RSS Reader?
RSS reader enables professionals to bring all their reading stuff at one place but remember it is not some kind of email inbox. If you have never used RSS, you would definitely like to know the reasons why you should be using it. Below are some of the most important reasons.
Reason 1: Save a lot of Time
If you are a busy HR professional, you will always be found complaining lack of time to go through your favorite websites on regular basis to scan or read what's newly posted there. Well, here comes the biggest advantage of using an RSS reader which will allow you to select some of your most favorite websites. Whenever new stuff is posted on those websites, will also be fed into your RSS reader. Most of the readers have their apps for smartphones which means you can still read your stuff even if you are away from your office.
Reason 2: Increase Your Productivity
As mentioned above, your RSS reader will put all interesting content in a single place, you will be able to produce even better results for all your activities. You can get latest content related to your industry and in this way, you can be more productive for your company because you are well aware of everything. The time that you save from unnecessary online research can be used in other more productive activities important to improve your performance.
Reason 3: Research & Save for Future
As a professional HR Manager, you should always be ready for everything such as presentations and meetings and with the help of RSS feeder, you can easily flag relevant content for future use. For example, if you are ordered by your boss to prepare a presentation on a certain topic for coming future, you can easily save research stuff whenever you find during usual research.
Reason 4: Organize Different Types of Blogs
You might be one of those who are interested into reading different types of blogs such as those related to business, sports, technology etc. Sometimes there can be so much mess with your articles as you have to find out from different blogs. With the help of an RSS reader, you can organize different types of content separately. For example, you can save business blogs for reading in morning, technology blogs for evening while sports blogs for night time.
Reason 5: Alternative Communication Sources
As an HR Professional, you always need to use effective communication channels and an RSS can get you a great alternative communication source to become more efficient. You can't just get stuck to a single source of communication but the more ways you utilize, the more efficient and productive you become.
Reason 6: Spam Free
Many internet users are afraid of using online tools because of the spam emails but the good news about RSS is that it is spam free so you don't really need to worry about receiving a huge number of spamming posts in your feeder. You will get the exact information you are looking for rather than wasting a lot of time in sorting posts out.
There are various advantages of using an RSS reader so if you have not started using it yet, you must do it now because this is the simplest way to save a lot of time, improve your efficiently and increase your productivity as HR Pro.
The following two tabs change content below.
Ellie is a writer, blogger and an HR consultant at
Dissertation Help | 1 Click
. She has been working in human resources industry for many years and best known because of her consultancy for HR Professionals. As a writer, she is more interested in creating academic stuff.
Latest posts by Ellie Violet (see all)
Donate To Help Others
Donate to Doctors Without Borders
Check This Offer Out