5 Easy Ways to Relieve Pressure on HR Staff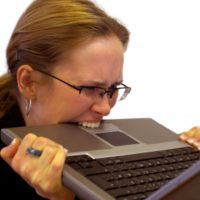 Arguably, many positions within a company come with a certain level of stress. However, human resources, or HR for short, tends to be stressful across all types of businesses. In fact, some of the most common HR stressors including trying to stay objective while solving some major issues, figuring out how to best handle unhappy personnel, and juggling many different roles all at the same time. It can be exhausting.
If you're a business owner or otherwise in charge of managing your company's HR staff, there are a number of things you can do to help relieve some of the pressures they feel. Here are five relatively easy options to consider.
#1. Give them some leeway
One of the primary roles of HR is to improve worker performance, which can often be accomplished by finding new and innovative ways to motivate the staff. Because a little creativity can go a long way with this particular task, giving your HR staff the ability to come up with some of their own ideas can relieve some of their stress by letting them have some fun with this job function. And the more fun they have, the more fun they'll inspire the workforce to have too, which makes this option a win-win.
#2. Automate more processes
The more processes you can automate for your HR staff, the more they can focus on personnel issues that require a more personal touch. For instance, instead of asking them to manually enter all of the employee's timesheets, why not let them use time and attendance software instead? Not only will this save them hours upon hours every week, it also gives them a real-time view of where all of the employees stand with their time worked.
#3. Check in regularly
Because HR is their own department, it can be super easy to overlook everything they do and just let them function on their own. However, taking this approach may put them in a position where they feel overloaded with no help elsewhere in the organization. This can be easily avoided by checking in with them regularly to see how they're doing and asking where work seems to be piling up. Even if you don't have the funds to hire additional staff, this at least lets them know that you're aware of their struggles. Plus, it gives you the opportunity to prioritize so they know what needs to be done first.
#4. Provide access to training opportunities
Sometimes we feel added pressure in our jobs solely because we don't know how we can do them better. We lack the training necessary to increase our own productivity and efficiency, so we always feel behind. One way to combat this with HR staff is to provide access to regular training opportunities, whether in person or online. This provides additional benefits as well, like increasing their levels of happiness (improving workplace morale) and making fewer mistakes.
#5. Offer motivational incentives
Have you ever noticed that you tend to feel more satisfied when you're working toward a goal? Why not use that same principle with HR staff and give them goals to hit, offering motivational incentives if they're able to achieve them? Though money-related bonuses may be nice, the rewards don't necessarily have to be associated with a dollar amount if you have a tight budget. For instance, maybe they could have a prime parking spot for a month or take a "free" day off of work.
HR can be a stressful role to hold within a company, but that doesn't mean that it has to be as high-pressure as it often is. Do these five things and it won't be. No doubt, your HR department will thank you.
The following two tabs change content below.

Stacy Burrows
Stacy is a UK-based freelance HR consultant working with both startups and enterprises on improving their HR methodology. With a knack for the digital world, Stacy also likes to leverage automation technologies to better optimize processes within the workforce.

Latest posts by Stacy Burrows (see all)
Donate To Help Others
Donate to Doctors Without Borders
Check This Offer Out