Predictive Analytics in Workforce Management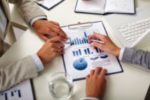 Predictive analytics isn't just for increasing sales and customer leads. There is also business intelligence software designed for HR use. This is an invaluable tool for gauging employee performance, recruiting new members, and maintaining morale. Find out how predictive analytics shape the modern enterprise and how the "human factor" plays an equally important role.
Why Predictive Analytics?
The level of big data in the cyber world is mind-numbingly staggering. As of the first quarter of 2017, there are 2.7 Zetabytes of data in the digital universe. The data industry itself was a $3.7 trillion market in 2015. Furthermore, 60% of companies have plans to invest in predictive analytics for their workforce.
Like it or not, big data is here to stay, and predictive analytics is a way to convert company data into interpretable information. In turn, this helps companies make pivotal decisions regarding the workforce, such as staff allocation, HR budgeting, and the "who," "when" and "where" of recruiting.
Also, with the rise of the Internet-of-Things and the proliferation of the BYOD environment, predictive analytics is a solution that is more accessible than ever in and out of the office.
What Predictive Analytics Means for Staffing
When applied to staffing, a predictive analytics system helps optimize the following areas:
Talent acquisition – identify the top performers in each department. This is based on data from previous project evaluations. There are plenty of metrics here, such as total sales numbers, loyalty program signups, conversion rate of customers who had contact with the staff member, etc.
Talent Pipeline Planning – leverage talent and macroeconomic data to identify key factors for optimizing resource allocation. For instance, you can identify the best locations for recruiting candidates with a specific skillset.
Job Response – achieve better response rates for job postings. Predictive analytics help identify the optimal recruitment recommendations based on factors like industry, occupation, location, and duration. Use the algorithms to drive the vetting process and candidate ranking.
Customer acquisition – provide staff with customer data for determining where the optimal leads can be found. Identify the best talent on the roster and where they can be allocated based on their strengths. This is one way to integrate customer data with staff data for individual projects.
Rewards – Determine top performers or prospect talents and allocate promotions or customized benefits to drive individual performance.
Training – measure the efficacy of training courses and determine whether existing orientation programs are creating competent, able-bodied, and knowledgeable staff. Training can also include gamification; determine whether this has any measurable impact on how trainees digest the material.
Don't Forget the Human Element
Big data organized into meaningful predictive analytics is invaluable for maximizing staff performance and acquisition. However, it is only one part of a bigger equation. The other factor is human judgement.
What does it mean by human judgement? Data alone has its limitations. We can look to Netflix and its own use of business intelligence as an example. Ted Sarandos is the streaming site's chief content officer. When the company was approached for the now critically-acclaimed House of Cards, Sarandos used predictive analytics to predict how such a show would be received by its demographic.
However, Sarandos and his team also relied on their own judgement and predictions. This included examining the fanfare of Kevin Spacey and what individual fans were saying about the actor. It also included more indirect elements, such as a critical examination of human investment in US politics. According to Sarandos, such decisions are 70% data and 30% human judgement.
The lesson here is that big data and predictive analytics should be a heavy influencer in your decision making, but don't let it completely spearhead your own judgement and gut instinct. Data analysis is completely objective, mathematical, and statistical. This needs to be balanced out with human experience and critical analysis.
It's only human judgement, after all, that can gauge certain factors like confidence or specific mannerisms that you know, through experience, to be winning qualities. This is a facet no data or artificial intelligence can provide.
Corporations and small businesses are only as strong as the individual employees that make up the collective workforce. Predictive analytics is a tool that shapes the decision-making process with respects to HR and staff management.
The following two tabs change content below.
Lucy Boyle (@BoyleLucy2), is a full-time mother, blogger for
Allocable
and freelance business consultant, interested in finance, business, home gardening and mental health.
Latest posts by Lisa Boyle (see all)
Donate To Help Others
Donate to Doctors Without Borders
Check This Offer Out