The Role of knowledge sharing in Improving Workforce Productivity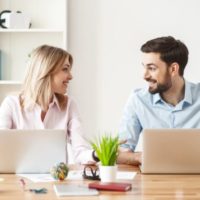 In the fast-paced world we dwell in, the significance of enhancing workforce productivity and efficiency cannot be overstressed. Productivity is greatly enhanced when outcomes produced by the workforce are more prominent than the efforts dedicated to produce those outcomes. Better efficiency yields competitive advantage and superior venture planning which have a direct impact on improving the ROI of the business.
Knowledge Sharing: The Secret Ingredient of Corporate Success
There are numerous ways to improve productivity in the workplace. One such way is knowledge sharing and knowledge management. In organizations, projects are often short-term endeavors that are to be completed within a certain time period. The individuals working on a project and the knowledge acquired are often disseminated after the project finishes. Consequently, this leads to loss of corporate memory and initiation of a new project results in re-inventing the wheel.
While some companies require workers to document overall task experiences, majority of these experiences stay with the workers and are often not easy to access when the worker is unavailable. Hence, to make this inferred information more extensively available, workers must be stimulated to share their knowledge with colleagues.
Benefits of Knowledge sharing
Here are 4 benefits of knowledge sharing on improving workforce productivity:
Rapid Decision Making:
Having easy access to relevant information all the time greatly speeds up the decision making process in an organization. Knowledge sharing platforms allow employees to produce better results and take well-informed decisions on the basis of diverse opinions and past experiences.
Improved Efficiency:
Whether an employee has to respond to a client, devise a plan, resolve an issue, estimate developments, evaluate markets, comprehend competition, or think critically, he will need to search for relevant knowledge and resources. He can perform all these tasks proficiently if it is easy and quick to access relevant information.
If all employees become more proficient, the company will develop competitive advantage, attract more customers and accomplish more prosperous ventures.
Information Reuse:
If all knowledge and experiences acquired during a project are managed properly, they can be utilized in the forthcoming projects. This will simplify as well as speed up the work process. Moreover, it will help in adopting better tactics on the basis of past experiences.
Reusing the information will help in conserving valuable time, organization's money as well as efforts of the workforce and they'll be able to direct their energies to other more important tasks.
According to George Santayana, "Those who ignore history are doomed to repeat it." Hence, proper knowledge management will allow employees to share their experiences, and learn from the successes as well as failures of other employees.
Provision of Procedures, Tools, Prototypes, and Samples
Procedures, tools, prototypes, and samples are the foundation that supports repeatable methods and techniques. Successful utilization of these restructures work, increases quality, and guarantees harmony across the business. A knowledge sharing platform serves as a database of past experiences, examples and detailed account of past successes and failures. Hence, it can greatly facilitate new employees in understanding how the company works and what measures to take in a particular setting.
With the rise of technology and the amount of information today's workforce deal with, an accessible knowledge sharing platform is crucial. It boosts workforce productivity and organizational performance as a consequence.
The following two tabs change content below.
Ehsan Memari is a blogger for BoostHQ. The leading
knowledge sharing platform
for organization to share, centralize and discuss internal knowledge. Ehsan is a regular contributor to blog posts related to knowledge sharing, L&D and eLearning.
Latest posts by Ehsan Memari (see all)
Donate To Help Others
Donate to Doctors Without Borders
Check This Offer Out