International Recruitment: Facing the Biggest Challenges in Talent Acquisition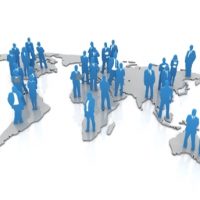 Why look into international recruitment to fill your talent gaps? The benefits of international recruitment are well documented. It can help:
Eliminate skill gaps
Discover untapped talent pools
Diversify workplace culture
Introduce new ideas and mindsets
Open new avenues of trade
The list goes on.
Businesses of all sizes employ international talent as a way of improving and growing the company, but this vital source of workers could be under threat.
In a global study of recruiters, CEMS discovered nearly 50% struggled to successfully onboard international talent. A concerning prospect for HR professionals.
Given the value international candidates bring, plus the high costs of running a recruitment drive and relocating them, a successful onboarding process is of the utmost importance.
How can we ensure our processes don't end up struggling like the other 50%?
Starting in the Right Place
The key to finding the right international employees is looking in the right places. It is all too easy to cast a net that is either too large or too small.
Consider your requirements of an international recruit. Is this about company culture, expanding trade options, or maybe skill shortages?
Each area of the globe will have a different impact on your recruitment needs, so it's important to look in the right place.
For example, when searching to fill skill gaps, it's vital you avoid recruiting in countries with job that are already oversaturated, as they'll be experiencing the same problem as you. Look instead to places with high numbers of unemployed graduates or emerging economies, such as the Next Eleven.
Another example would be if you are looking to step up trade in a particular nation — say, China. While you would probably consider recruiting solely from China, you can also have great success and open your process up to a wider range of candidates by running drives in countries with strong trade ties to the country. In countries like Japan, where trade with China is big business, you'll be able to find talent that not only has knowledge of the market you are looking to enter, but also another national market that you could tap into at a later date.
Smart Recruiting
In the digital age, it is all too tempting to perform international recruitment processes completely over the internet. However, this isn't going to attract the talent you want.
Face-to-face interaction is still important, and can't simply be replaced by a video chat.
To run the most effective international recruitment campaign, we recommend:
An HR on the ground: Having a representative on the ground during your international recruitment process ensures face-to-face interactions. It helps build a connection with candidates and offers a humanised version of your company. It also demonstrates your dedication to the process and helps prospects feel more comfortable about your business.
Utilizing local recruitment agencies: Instead of funneling resources into setting up a full international recruitment campaign, consider partnering with a local recruitment agency. Working closely with your HR on the ground, they can offer you effective recruitment solutions and local expertise.
Preventing Common International Recruitment Problems
In the study by CEMS, the global HRs outlined the three biggest challenges they faced while onboarding international recruits:
Settling In: 46% of HRs surveyed had issues with their prospects settling in. Recruits that can't adjust to their new working and living environment are much more likely to repatriate. Avoid problems by offering support to your recruit. Assistance in setting up the basics required for comfortable living, such as banks, accommodation, insurance, utilities, healthcare, immigration and the like, will help your prospects ease into their new life.
As their employer, you will likely be the only link to their new country of residence until they become more established, so it's important to offer an open-door HR policy. This could be as mundane as getting to know the local area or as complex as building personal relationships. If you help your recruits settle in and build a life worth living, they'll be far more likely to stay.
Culture Shock: Culture shock occurs when recruits are unable to function in their new environment, leading to swift resignation and a return home. The primary culprits of culture shock are being unprepared for what lies ahead and a personal mismatch of personality to local lifestyle.
To avoid negative impacts of culture shock, preemptive action is required. Provide candidates with resources on moving, what life is like abroad, and how to go about day-to-day tasks — from buying groceries to language skills. It is also recommended that the recruit visits the country before their move, so they can adjust at a slower pace and let you know of any problems ahead of time.
Communication: Issues connected to communication can arise before a prospect even applies for a job. If they feel they are going to be unable to communicate effectively, they simply won't apply. Conversely, if prospects enter the role and communication is a problem, the new recruit may be unable to do their job properly.
The solution is education, but not just on the side of the recruit. Offer a multilayered approach. Provide recruits with educational tools and resources on how to communicate in your work environment, including language, process and culture. Then, take off some of the pressure by committing to better communication with them. This could include learning language basics or having a dedicated support colleague.
The following two tabs change content below.
Heather Darby, marketing manager at
corporate relocation company
Momentous Relocation, is an expert in relocating employees. Through her work with Momentous Relocation, Heather has gained valuable experience assisting both recruits and employers during the international recruitment and relocation process. She knows exactly how to find and comfortably move recruits.
Latest posts by Heather Darby (see all)
Donate To Help Others
Donate to Doctors Without Borders
Check This Offer Out