Why Your Employer Brand Needs to Extend Beyond Recruitment (and How to Get There)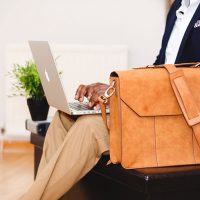 Every HR professional knows that a sound employer brand is critical to recruiting for hard-to-fill jobs in competitive sectors.
In fact, 75% of job seekers consider employer brand even before applying for a role.
Now that applicants can scour Glassdoor reviews, trawl through company social media accounts and quickly find any negative press coverage attached to your company, you can't afford not to pay attention to your employer brand.
The phrase 'employer brand' is never too far from the word 'recruitment'. There's no doubt that the recruitment benefits are behind most companies' choice to invest in their employer brand, but all too often that's where their branding efforts end.
There's one huge problem with this approach.
If a brand doesn't match reality, customers (read: employees) feel cheated.
Imagine it like this: you book dinner at a restaurant after seeing an ad that boasts of the quality of its artisan pizza.
When you get there, your pizza arrives and it looks (and tastes) identical to Domino's.
Sure, Domino's pizza is fine when you're after takeout on a Friday evening, but it's not what you expected at a restaurant which claimed its pizza was lovingly crafted and used only the finest ingredients.
By establishing an employer brand, you set expectations.
If you don't bother to meet those expectations, don't be surprised when employees start quitting after only a few months on the job.
Even if your company can cope with the disruption caused by high staff turnover rates, the damage doesn't end there.
Every disheartened ex-employee will tell their friends and family about their experience.
They might leave a scathing review on Glassdoor or if their time at your company was really awful - go to the local press.
Now the integrity of your employer brand is questioned and others may be dissuaded from sending in their applications.
So, what's the alternative?
In short, building an employer brand which accurately reflects your workplace culture.
To achieve this, think of your brand not just in terms of recruitment, but with regard to every stage of the employment life cycle.
Onboarding
Onboarding is your chance to make a winning first impression. At the interview, the successful candidate might have had a brief tour of the office, but this is the first opportunity they have to see how the company really operates.
You probably mention the onboarding process on your careers site, so ensure that it reflects reality. Carry out the tasks and training that you detailed during the recruitment process. For example. if you like to boast about cross-functional teams, introduce staff to members of other departments within their first day or week.
It's also a wise idea to talk about company values and how they're applied throughout the new hire's job role.
The employee will also be scoping out the office environment. Does the office match the fancy photos on your careers page? Are the other employees as friendly and chilled out as your marketing copy suggested?
If not, either scale back expectations during the recruitment process or evaluate the onboarding process and change it to mirror what you describe in job ads, business social media accounts and your careers page.
Continued development and progression
Don't dedicate all your resources to keeping new hires happy. Instead, you should distribute your efforts evenly between all staff, regardless of length of service. That means continuing to offer perks, training and progression opportunities to all your employees.
Your managers and leaders play an important role in extending your employer brand to this stage in the employment life cycle. If your leaders don't share your company's values, there's no chance they'll be able to convince employees that your brand values are actually meaningful.
For example, if your brand positions itself as a highly creative environment, employees will be perturbed if their manager doesn't listen to their suggestions or gives them no opportunity to apply their creativity.
We all find it infuriating when words and actions don't match up. Ensure that managers understand and believe in employer brand values - offer training where necessary. Additionally, build structures that incentivize behaviour that reflects your employer brand, such as referral schemes and job swap programs.
It's also worth finding ways to monitor employee perception of your brand values - perhaps through anonymous surveys or regular interviews.
Moving on
When an employee hands in their notice, you have one final opportunity to maintain your employer brand. Hold an exit interview (it can be as formal or informal as you like) to ensure that you part on the right note.
Remember that ex-employees can be powerful brand ambassadors. If their experience at your company was positive and reflects your employer brand, they'll recommend your company to friends and family when they're looking for work.
Summary
Your employer brand works in the same way as your product brand: it doesn't count for much unless it's grounded in reality.
By building an employer brand that accurately reflects life at your company instead of just using it as a recruiting tool, employees will be more engaged, satisfied and will stay at your company for longer.
Don't cheat your employees by inflating their expectations and providing them with an inferior reality. Keep your employer brand strong and honest throughout the entire employment cycle to attract candidates that are the best fit for your company - and keep them onboard as productive members of the team for years to come.
The following two tabs change content below.
Anna Roberts is Head of Content at RotaCloud, a UK-based startup which provides easy-to-use employee scheduling software to hundreds of businesses across the globe. Anna writes about marketing, employee engagement and HR over at the
RotaCloud blog
.
Latest posts by Anna Roberts (see all)
Donate To Help Others
Donate to Doctors Without Borders
Check This Offer Out