Can an Organizational Chart Really Make You Better at Your Job as an HR Executive?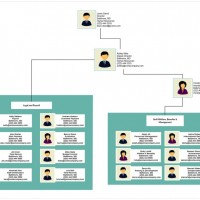 There are two types of HR executives; those who know their way around organizational charts and those who don't. The bottom line is, those HR executives who already use org charts know how to coordinate their responsibilities and workload efficiently, while those who don't use them don't even know what they are actually missing out.
This article aims to explain what organizational charts are and how they can help you to be better at your job as an HR executive.
What is an organizational chart?
An organizational chart (also known as organigram) is a graphical representation of the internal structure of an organization. It depicts the reporting relationships between an organization's employees as well as departments. In addition, it also highlights the roles and responsibilities of employees.
It can portray the structure of an organization as a whole or as a particular unit or a department. For an example, the following diagram shows an Organizational chart of an HR Department. Not only has this chart listed down the job titles of the personnel in the HR department, but also their contact information. Depending on the scenario, you can add or remove details to or from an org chart as necessary.
As an HR executive, your responsibilities include delineating work responsibilities, help maintain the work structure of the organization as well as the pay plan, drafting job descriptions, recruiting and training employees, keeping track of employee turnover an exit rate etc.
In order to complete these tasks successfully, you need to refer to the structure of your company constantly. If you have a comprehensive organizational chart, you can access all the important and relevant details of the personnel at your company in one single place, at anytime of day.
Here are the awesome benefits of organizational charts you can enjoy as an HR executive;
A visualization of your organization's structure
A pictorial representation of your company is the most valued documentation for you as an HR executive. It will help you perform your job responsibilities systematically. For an example, say you are working on preparing the pay plan or drafting job descriptions; referring to a comprehensive org chart (which includes names, job roles and other related information about employees) will allow you to complete these tasks most efficiently. If you are to maintain information of a larger staff, an org chart would then be indispensable to you.
An illustration of work responsibilities and roles of employees
Knowing the job titles and the work responsibilities of the employees of an organization is one of the chief responsibilities of an HR executive. However, it is not easy to remember every little detail, especially if there are a large number of employees. This is where an org chart will come in real handy, for it will illustrate the job titles and responsibilities of each employee. You can always refer to that and update it whenever you want.
Likewise, an org chart can also be utilized to illustrate the functions of various departments of an organization. A chart like that will help employees identify which department or unit they should reach out to get help to complete their projects.
A clear emphasis on the reporting structure
An HR executive should be able to clarify working relationships in a company like he/she can spell out the alphabet; therefor an organizational chart should be your manual.
Org charts (like the one below) clarify reporting relationships between managers and executives or between departments, hence pointing out who is working under whom or which department and who should report to whom. Thus, it will help you easily explain even the most complicated reporting structure to employees. It would also be of much value to you when keeping track of and completing projects.
A guide to training new employees
Another chief responsibility of an HR executive is to train new employees and help them warm up in to their new job roles. Not only do they need to be made aware of their responsibilities and rights, but they should also be introduced to their team members and their superiors. With the help of an org chart, you can both elucidate their own position within the organization and their responsibilities, and help them identify the people they are going to work with.
A way to ensure better project planning
Since it visualizes the structure of your company, it will make things easier when it comes to electing competent and relevant individuals for particular projects you are supposed to be coordinating. It will also contribute to better resource allocation. A project structure org chart like the one below will also help you keep track of the projects and make sure that each individual is fulfilling their responsibilities within the project framework.
An organizational chart is an HR executive's best friend  
An organizational chart is much more than a simple diagram that shows the structure of a company, especially to an HR executive who constantly work with matters related to the employees of a company. One detailed org chart could be the most valued tool for you whether you are updating job descriptions or training new employees. It's an effective technique to ease your workload and plan your strategies better, whether you are an HR executive at a small or a large company.
The following two tabs change content below.
Amanda Athuraliya is the communication specialist/content writer at Cinergix, the team behind the development of
Creately Flowchart Software
. She is an avid reader, a budding writer and a passionate researcher who loves to write about all kinds of topics.
Latest posts by Amanda Athuraliya (see all)
Donate To Help Others
Donate to Doctors Without Borders
Check This Offer Out