Leveraging Human Resources During Difficult Times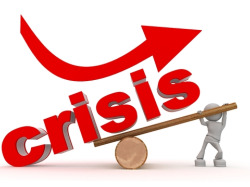 The global economic crisis continues to force businesses to make difficult decisions to remain viable and competitive. Increasing regulatory pressures, decreasing revenues, and continual competitive threats have turned the "status quo" into the "status isn't".
In this new era of uncertainty, businesses need to think differently and beyond its immediate challenge(s) to navigate successfully through difficult times. Executives who think of a human resources function only as an administrative overhead department, businesses can stand to lose out on critical key strategies that will help them remain viable and competitive.
Workplaces can leverage its human resources in order to navigate through these difficult times to remain viable, and ultimately obtain a competitive advantage when the economy turns around.
Here are three specific areas where human resources can be leveraged in this new era:
Cost containment
Cost containment can go beyond just eliminating positions and reducing supply purchases. Human resources can be leveraged in analyzing and locating wasteful spending in its benefits, compensation, and staffing practices. There are reports of organizations finding hundreds of thousands of dollars in savings by its human resources facilitating the auditing of its benefit plans and records, alone. In fact, Liberty Benefit Insurance Services offers insight in how businesses have been able to save much needed money by auditing its health insurance plans. Through these auditing practices, businesses may be able to find savings without compromising on coverage.
In addition, businesses can leverage human resources in correcting those cost containment opportunities from within the organization. These activities include facilitating real collaborative house-wide organizational efforts, managing reduction-in-force efforts, while mitigating risks that may lead to spending money on legal defense. By managing a non-punitive, truly engaging efforts, employees may feel open to sharing with you areas of opportunity for saving money. However, punitive, singling-out efforts will only encourage employees to remain silent, costing the company cost containment opportunities that could have been realized. While cost containment findings may offer short-term solutions, being able to internally work together, identifying and self-correcting wayward practices is a step towards becoming self-reliant and viable in the long term.
Performance Improvement
In an era where businesses must do more with less, it is critical that its workforce is performing at its highest level, now more than ever. Now is the time to be fully "on" with all employees moving in the same direction. This can be done with the right tools and collaborative support from the executive and leadership teams.
In a time of crisis it is especially important to ensure job descriptions, evaluations, any assessment tools, training efforts and internal communication methods are current and aligned with organizational goals and objectives. A common mistake is to assume that these are only administrative chores and have no impact on organizational performance. It is completely ironic when businesses use tools that are not connected to actual goals and objectives, but expect stellar performance. Resist the temptation to use tools just because some other company uses it without building in language and measurements that align with your desired business culture and goals.
When each of these tools are designed with business results in mind and skillfully leveraged together, they can help achieve direct results such as hiring the right people, holding them accountable, and developing future leaders. It is these steps that keep people on the ship focused on desired direction, despite the stormy weather going on around you.
Positioning for growth
Leveraging human resources comes into play for workplaces who wish to engage in positioning for growth. Some of those activities are through leadership, hiring the right people, and employee engagement.
Leadership - Identifying who should be "on the bus", obtaining and developing a strong leadership team is a key strategy. Effective leadership development programs address current challenges and are not a one-size-fit-all approach. Most organizations have leaders that are at different stages in their development.  In addition, with multi-generations that comprise the workforce, being able to mix-up and customize development programs are essential.
Hiring the right people - Recruitment is the front door to successful talent management and goal achievement. Businesses will be set up for success if they make a concerted effort to hire people with values that are aligned with organizational goals and objectives.
Employee engagement - Knowing how to engage people in crisis, solutions, and organizational goals and objectives is a key strategy towards success. You can sit and bark orders at people all you want, but unless employees are engaged in the desired direction, success will be elusive.
This article only touches on some of how human resources can be leveraged. Other activities include facilitating merger and acquisition due diligence, communication strategies, expounding on performance management, employee engagement, and human resource technology are also considerations.
While times are tough, acting like a "deer in the headlights" or reacting without leveraging human resources can only yield being run over. In this new era it is the executive who can step away from the status quo, know how to leverage resources, and create new opportunities, will realize success today and in the future.
The following two tabs change content below.
Tresha D. Moreland, MBA, MS, FACHE, SPHR, SSBBP, founder of HR C-Suite, is an HR thought leader in Human Resource Strategic Management. She has held key human resource leadership roles for over 20 years in multiple industries most recently a senior vice president in the healthcare industry. Tresha is the founder and publisher of HR C-Suite (www.hrcsuite.com). HR C-Suite is a game changer results-based HR strategy website. It is a first-of-it's-kind site that organizes HR strategy based on desired business result. She has developed a business philosophy of integrating human resources with business strategy, thus creating a hybrid HR leadership approach. This approach enables the leveraging human resources to achieve business results.
Latest posts by Tresha Moreland (see all)
Donate To Help Others
Donate to Doctors Without Borders
Check This Offer Out