The Situation Room: Workplace Civility Despite a Hot Political World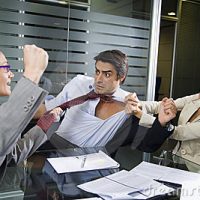 It's a busy day and there are a lot of urgent things to get done. The project work has become quite intense as a major deadline looms. As a manager you are hopeful that the employees working on the project are focused and productive today.
But to your dismay a heated argument erupts between two employees.
One employee suddenly declares, "I'm voting for Clinton and you should too!" The other employee quipped, "That's stupid! Trump will get the job done and not lose emails while he's doing it." The first employee shouts, "Well, you're an idiot!" Other employees overhearing the argument join in.
Before you know it there is a huge shouting match with all employees insulting and talking over one another.
The project work came to a complete stop.
Angry emotions continue to rise like a thermometer on a hot summer day. If something isn't done you are convinced a brawl will break out. If that happens you'll have to discipline or fire people. That will put the project way pass the deadline.
What do you do?
Ignore it. The argument will eventually subside and people will get back to work.
Jump in the argument. You have opinions that count too. Employees will benefit from them.
Tell the employees that you respect everyone's views and opinions. However, insist they remain focused on the project.
Wait for a fight to break out, videotape it using your smart phone and post it on Facebook.
I grew up hearing the age-old etiquette advice to "never talk about money, politics or religion in polite company." So as an adult I find the practice of being guarded, to whom I speak about any sensitive topic, has served me well over the years. However, that etiquette advice seems to have been long forgotten including in the workplace.
The least of our worries come with employees who are not shy about showing their paycheck stubs with one another. Which is considered protected activity by the NLRB, by the way. There is nothing to do there. But then comes constant bombardment from the media about a hotly contested presidential race. And to top things off, our world is riddled with increasing violent attacks on people because of having different points of view.
Its no wonder people want to talk about these things more openly. If anything talking about them brings some hope of returning a sense of positive logic and balance into our reality. But in doing so and furthering hotly debated themes can bring on more angst and hurt feelings perpetuating a negative environment which is not what we want or need in our workplaces.
We are left with two questions.
Where has common civility gone and what can we do to bring it back?
Here are 3 ways to usher civility back into the workplace:
Train employees and give them tools on how to productively address disagreements.
Have a strong policy in place for disrespectful behaviors and follow it consistently.
Lead by example. Leaders should rise above the petty arguments and show employees through daily demonstration of how to treat each other with respect.
Share your ideas on bringing civility into the workplace in the comments below.
The following two tabs change content below.
Tresha D. Moreland, MBA, MS, FACHE, SPHR, SSBBP, founder of HR C-Suite, is an HR thought leader in Human Resource Strategic Management. She has held key human resource leadership roles for over 20 years in multiple industries most recently a senior vice president in the healthcare industry. Tresha is the founder and publisher of HR C-Suite (www.hrcsuite.com). HR C-Suite is a game changer results-based HR strategy website. It is a first-of-it's-kind site that organizes HR strategy based on desired business result. She has developed a business philosophy of integrating human resources with business strategy, thus creating a hybrid HR leadership approach. This approach enables the leveraging human resources to achieve business results.
Latest posts by Tresha Moreland (see all)
Donate To Help Others
Donate to Doctors Without Borders
Check This Offer Out