Ways Your Company is Killing your Employees' Creativity (and How to Fix it)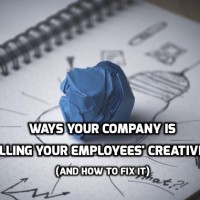 Creativity is essential for companies to mark their uniqueness on the market. With competition higher than ever, it's in your interest to promote creativity at your company by building an environment, which boosts innovation and delivers excellent leadership. Unfortunately, it's very easy to fall victim to some common errors and reduce employee creativity to zero. Here are some ways your company might be killing its workers' creativity and how to avoid them.
Punishing errors
Creativity is about brainstorming different ideas. Don't expect your workforce to instantly come up with the right solution to a problem. But just because you won't implement this idea doesn't automatically make it irrelevant and devoid of any value. Failures and mistakes are excellent learning opportunities and provide the team with plenty of valuable knowledge to work with.
If you punish people who come up with these ideas, you'll effectively stifle any creative spark among your team. You'll be teaching your staff members that creativity is risky and scary, while in fact it is a pathway to innovation and success. Encourage people to learn from their mistakes, teach them to be open about their failures and build a positive working environment.
Lack of timely feedback
Assessing creative concepts is difficult because of its inherent subjectivity. But you can't forget about giving feedback on a regular basis. Make sure to do it in a right way – you won't crush anyone's motivation or leave employees confused and lost. You need to be clear and show them whether they're on the right track. With appropriate feedback, you'll boost their motivation and encourage them to work hard towards your creative goals.
Refusal to take risks
Some companies or executives like to play it safe. They never think about doing things differently because why change something that worked for them so far? Even if it makes sense in theory, this approach restricts creativity at the company. Employees aren't likely to explore new ideas or think creatively. Routines and standards are excellent for managing resource waste or optimization, but they effectively prevent people from coming up with new ideas or finding innovative solutions to common problems.
Poor resource management
When it comes to creativity, there are two factors which count most – time and resources. Time and money are a must if you want something great to happen and creativity can only flourish when it's properly supported. Allowing your team enough money and time, you'll be encouraging them to drive innovation.
If you force your employees to work within tight deadlines and with a limited amount of funds, your decision will not only affect worker motivation (and quality of their work!), but also make them unwilling to explore new ideas.
Focus on micro-management
In some companies, micro-management is considered a go-to solution for controlling the entire operation of the business. Obviously, planning every single aspect of the company's operation takes a toll on the amount of empowerment and freedom employees have to come up with new solutions to common problems. Developing a manual for each task might seem like a good idea that brings in lots of security to the organization, but it also stifles any creative potential of the team.
If you'd like your employees to think creatively and put in all their energy to drive innovation at your company, you can't be the one to provide them with solutions to every problem. Give them the freedom to implement their ideas and policies. Make sure that every member of the team feels included in brainstorming sessions, even the junior workers or interns. If you let them flourish, people will thank you with some groundbreaking ideas.
Encouraging innovation and creativity among your workforce is the best tactic to develop a strong brand and keep your business afloat no matter what. If you'd like your organization to be known for excellence in innovation, make sure to avoid these mistakes and encourage creativity among your employees.
The following two tabs change content below.
Simone Cormack is a part of the team responsible for
Zintel
- professional virtual phone systems for every business. Simone enjoys both learning about new ways of establishing and growing a successful business, as well as sharing her knowledge in the form of blogs or seminars.
Latest posts by Simone Cormack (see all)
Donate To Help Others
Donate to Doctors Without Borders
Check This Offer Out