Phantom Policies and Rules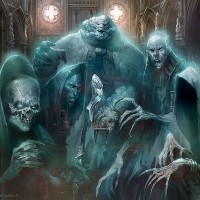 I don't mean to frighten anyone. There may be phantoms lurking about your halls. Like ghost and goblins, phantom policies may be creeping about in your organization [que evil laugh] Bwahahaha!
Phantom policies are undocumented and not widely known rules or expectations. Picture this scene. You are humming along performing and doing what you think is expected and…[que scary music] suddenly out of nowhere the phantom rules jump out when you least expect it [que screaming in terror].
If the following sounds familiar you may have a phantom policy problem lurking about your halls.
Relatively new employees seem confused or frustrated about what is expected of them.
There seems to be different expectations for different people or departments.
There is a lack of trust throughout the organizational culture.
There is a lack of transparency.
There is a lack of consistency.
Are you a leader who often wonders why people don't follow whatever standard you thought you established? It doesn't take a mad scientist to figure out people simply cannot read your mind let alone remember every whim you may have muttered at one time.
So who are you going to call? The Ghost Busters!
Don't delay. Don't give excuses.
Get those expectations documented and widely communicate them. Be sure the new rules are cascaded to all levels. Don't forget to share critical expectations with your brand new employees. It doesn't hurt to refresh your existing employees on them too.
Happy Halloween!
Other related:
Tresha D. Moreland, MBA, MS, FACHE, SPHR, SSBBP, founder of HR C-Suite, is an HR thought leader in Human Resource Strategic Management. She has held key human resource leadership roles for over 20 years in multiple industries most recently a senior vice president in the healthcare industry. Tresha is the founder and publisher of HR C-Suite (www.hrcsuite.com). HR C-Suite is a game changer results-based HR strategy website. It is a first-of-it's-kind site that organizes HR strategy based on desired business result. She has developed a business philosophy of integrating human resources with business strategy, thus creating a hybrid HR leadership approach. This approach enables the leveraging human resources to achieve business results.