The "Wow!" Is In The Details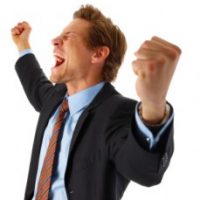 It's surprising how easy it can be to Wow people.  Yet, in the crush of our busy days we are focused on getting things done, checked off on our to-do lists.  We fire-fight, multi-task, prioritize, work through lunch, come in early, and stay late.  And, while we usually do a good job on accuracy and product quality, we often end up trading off "extras" that could make the difference between satisfying and delighting or wowing employees and/or customers.
Let's take a moment to reflect on the Wow experience.  What have people done that has Wowed you?  Have Wow experiences ever changed your attitude and behavior? How can you tell when you've Wowed someone else?  What's the impact of "Wow!" and is it worth taking time to create it?
About 20 years ago, I was engaged as a consultant with a newly formed leadership team who had recently taken over a newly group of merged manufacturing companies.  The VP of HR was my principal client and I worked closely with his assistant, a woman named Gail, who knew about the power of Wow.  Gail showed me how a very small investment in time can transform something from good to great.  To this woman, it was simple:  "Let's make it nice."  This was Gail's approach with people in general, in both her work and personal life.  And, what a difference she made for people.  The thing is, we can all make this difference – it's all about creating the "Wow!" and it takes remarkably little time and effort.
Following are two typical situations where the "Wow!" is there in the form of details, waiting for us to act on them.
Reward:  Team Lunch
Option A:  Getting it Done
Option B:  "Making it Nice"

Results

Order plenty of pizza with different toppings

Option A:  Creates satisfaction
Option B:  Creates the "Wow!"

Place the pizza boxes on a table with paper towels

Plastic  forks, knives; straws, napkins, paper plates

Include salad as part of your buffet, for people who are trying to eat more healthfully OR provide menus for people to choose their own food

Paper place mats that say Thank You! with each employee's name

Option B requires us to keep a supply of implements on hand, to remember to order salad  or to coordinate ordering,  and to take 5 minutes to set up.  The personalized place mats can be produced on a computer and printed out, or can be made using blank Certificate forms with employee names hand written or printed, requiring another 5-10 minutes. Total extra time:  about 15 minutes.  Worth the impact?  You decide.
 Set Up Summer Safety Hydrating Program For Plant Employees
Option A:  Getting it Done
Option B:  "Making it Nice"

Results

On the first hot day, find spots to put out water and gatorade

In advance, purchase travel cups with the company logo and each employee's name for them to use in and outside work

Option A:  Creates satisfaction
Option B:  Creates the "Wow!"

Communicate in team meetings about  the safety issues of working indoors in the heat

Plan the locations of hydrating stations so that they are quickly accessible to all work station and share it as a graphic with your team for their input prior to set-up

Print a one page flyer of summer hydration information (from the OSHA.gov web-site) and hand them out in the travel cups during your team meeting

Invite your Safety representative to the meeting to talk about the symptoms and signs of dehydration and heat exhaustion and how to deal with them

Option B requires placing a task in your calendar to start this project with enough lead time for the travel cups, to review the floor layout in advance and ensure enough tables are available for location of hydrating stations, to print out the flyers and to invite your Safety Representative allowing time for him to prepare.  Worth the extra time?  You decide.
The value of wowing people is in how it makes them feel:  important, cared about, and appreciated.  It builds feelings of mutual good will.  By making extra effort you're leading by example.  And, you're building a Wow culture.
Please share your thoughts, opinions and experiences with "Wow".  What difference could you make as a leader at work with a little more focus on details, on 'making it nice', on creating the "Wow!"?
The following two tabs change content below.
Rosanna Nadeau is the Principal/Consultant with Prism Perspectives Group, LLC. Focusing on improving organization performance, PPG delivers results through uncommon tools and consulting approaches, as a partner with leaders from initial consultation through solution implementation and measurement. PPG provides employee and management development programs (see TrainingForImpact.com) and H.R. Management services (see HRBoutique.net). To receive the free monthly newsletter or obtain more information visit www.PrismPerspectivesGroup.com or send email to Rosanna@PrismPerspectivesGroup.com.
Latest posts by Rosanna Nadeau, SPHR (see all)
Donate To Help Others
Donate to Doctors Without Borders
Check This Offer Out