Why Updated Technology Makes for a Happier and More Productive Workforce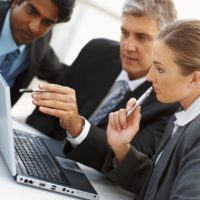 There's almost no getting around the fact that technology plays a pivotal role in the day of almost every worker. Whilst huge advancements have been made in many areas, some companies are still yet to upgrade to modern systems. Doing so however, has the potential to lift spirits, resulting in better output.
More Powerful Broadband
The internet has opened up a whole new world of opportunities. Whether that's a bit of research, sharing data or being connected or having access to select files and documents, businesses have almost all resources right at hand.
Whilst having this in place is all well and good, the introduction of faster broadband speeds has almost created a sense of scrutiny around slower connections. With quick broadband an almost expected commodity, a lack of it can have a negative effect on a workforce.
Waiting around for extended periods of time can leave some workers rather annoyed; especially when they're used to accessing whatever they need quickly and easily. Installing broadband that is four times faster than is already in place can work wonders for morale and productivity.
Primarily, workers can get what they need much sooner ensuring spirits aren't dampened by "substandard" speeds. There's also a knock on effect of a worker saving around 10 minutes a day not having wait for lengthy loading time.
Perhaps not too impressive in its own, but a whole week suddenly becomes almost an hour longer. That's more time that be put into developing and growing, providing enhanced efficiency and productivity.
Build on the Trusted Phone System
Communication is key, both internally and externally. The tried and tested telephone still has a key role to play in the workplace.
Progress since the inception of the first ever phone has been steady. New features able to transform everyday activities can be taken advantage of by owners and staff alike.
The most impressive of these is of course Voice over Internet Protocol (VoIP). It creates a more productive system as it makes and receives phone calls over the internet. This means that there is rarely any connection issue and staying contactable is effortless.
What this means for personnel is that communication is boosted and in most cases streamlined. With everybody connected seamlessly and on the same page, staff members are more content and productive.
Desktop Computers
Computers are an everyday component to almost any indoor occupation. Used for anything from email and data storage to downloads and photos, they are prevalent everywhere. Having brand new computers isn't necessarily a must but they should be able to effectively function as intended.
Neither software nor hardware is immune from the test of time and can sometimes even fall quite drastically. The physical components and equipment, as well as the programs on a machine, are essentially going to become outdated at some point. Slow performance and annoying bugs are usually the biggest gripes and can damage efficacy. The older technology gets, the less supported it tends to become meaning anybody using it is stuck with things exactly as they are.
Updated technology gives everything needed to resolve such issues. Some issues may arise but updates and patches to software tend to fix these. Employees can continue as normal after a quick download to resolve any problems.
A New Mobile Landscape
Due to their popularity, portability and convenience, more and more businesses are beginning to issue mobile phones.
Much in the same way that computer software and hardware is constantly being improved, handsets and devices are always being produced, each new one with more features than the last.
This doesn't render previous models completely useless. It is when handsets are a few years old, that issues may arise. Due to the fact that they are used every day, battery life, performance and speed can begin to dwindle.
Replacing old models provides the best of both worlds for all parties. The new features, performance and speeds are in place, meaning the user is better equipped to deal with calls, messages and anything else the phone is used for. There's also no frustration with non-loading apps and poor phone and data connection.
All combined, this makes for higher levels of satisfaction and efficiency as staff can easily do exactly what they are trying to do.
An Ever-Evolving Cycle
As technology gets bigger and bigger, the emphasis on competent equipment will undoubtedly grow. Without the right tools to effectively complete tasks, staff member can understandably feel pressure and even stress.
By ensuring they have everything in place, happiness and productivity will both be enhanced allowing for a more enjoyable place to work.
The following two tabs change content below.
Tresha D. Moreland, MBA, MS, FACHE, SPHR, SSBBP, founder of HR C-Suite, is an HR thought leader in Human Resource Strategic Management. She has held key human resource leadership roles for over 20 years in multiple industries most recently a senior vice president in the healthcare industry. Tresha is the founder and publisher of HR C-Suite (www.hrcsuite.com). HR C-Suite is a game changer results-based HR strategy website. It is a first-of-it's-kind site that organizes HR strategy based on desired business result. She has developed a business philosophy of integrating human resources with business strategy, thus creating a hybrid HR leadership approach. This approach enables the leveraging human resources to achieve business results.
Latest posts by Tresha Moreland (see all)
Donate To Help Others
Donate to Doctors Without Borders
Check This Offer Out