4 Reasons to Hate Team-Building Workshops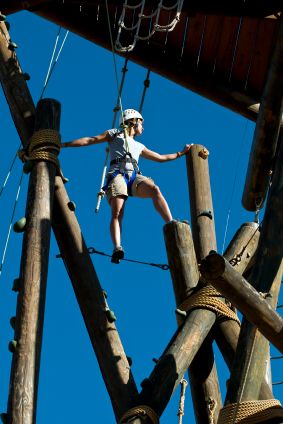 As the creator of the CareerLandscapes team-building workshop (which is based on authentic, structured and safe personal storytelling), naturally I have to talk about it to prospective clients.  As much as I believe in the value of my own offering, I don't love the marketing conversation. First of all, who likes marketing? Secondly, I don't know a soul who enjoys team-building workshops. In fact, I've discovered that when I say "it's a team-building workshop for people who hate team-building workshops," I hear a sigh of relief and recognition.  How perverse is it to routinely turn to a group experience that promises to create trust, foster easy communication, inspire and bond, but really leaves your group members feeling isolated with even a deadened sense of spirit?
So that got me to thinking.  Why are team-building workshops that experience that people love to hate?  Here's what I've come up with. Hoping this list strikes a comforting vibe of recognition within your skeptical spirit:
Nobody cares about ropes and straws.  The first team-building exercise I suffered through as a participant was a ropes course. When I was 15. It was cool then. I'm over it now.  Most people old enough to pay for their own health care insurance and have expensive dental work don't thrill at the prospect of falling on their face from unnatural heights. The most recent exercise I took part in involved the challenge of assembling five drinking straws so that they stood unsupported a couple of feet off the tabletop. Really? Straws? Have you seen the headlines recently?
Typical team-building workshops isolate the high-value introverts.  Granted, some people get jazzed by puzzles and tabletop challenges. They typically don't need the bonding experience of team-building workshops. They're already meeting after work for a round of 'ritas.  But you have another population of profoundly valuable individuals who like to solve problems on their own or in close groups of equally calm and thoughtful people. Make them participate in goofy, trivial games that are clearly irrelevant to the work at hand, and you have further highlighted their sense of feeling fundamentally different and separate. Not the outcome you had in mind.
Typical team-building challenges focus the participants on the game, not on each other. They come away from the day exhausted, without knowing anything new about each other. Thinking back to the straws exercise that I endured, I can tell you that the final assembly of straws looked like a dog's breakfast (and frighteningly I was on a team with designers, architects and engineers). But I can't tell you a single new insight, understanding or fact that I learned about my tablemates.  I'm also pretty sure that they didn't learn anything useful about me. But they might have gotten the mistaken impression that I prefer watching than doing.  And that would have been so wrong, potentially getting us off on the wrong foot for any future projects together.
You put your high-value, high-performing talent at risk for losing face for a low-return objective.  Let's face it, when you're relatively shy brainiac who lives primarily in her head, a group experience that involves a helmet and heights can't be good news.  If you really couldn't care less about causing straws to defy the laws of gravity, you know that pretending to be energized by the challenge is profoundly inauthentic (and your teammates will be able to smell it).  Why put your people through experiences that will be embarrassing, humiliating, isolating or potentially painful?
So what kind of team-building experience could you actually love and consider worth the investment of your entire group spending a half-day or so away from their core responsibilities?
Easy. One that helps each individual shine at his or her best. Where the team members authentically connect with each other. They come away from the experience possibly exhausted, yes, but also exhilarated and bonded together with a heightened sense of understanding, knowledge, respect and caring. For each other as individuals, beyond the definition and confines of their organizational roles.
That's the lasting outcome based on real knowledge that will move all your other team objectives forward.
The following two tabs change content below.
Martha I. Finney is the author of The Truth About Getting the Best From People, and a consultant specializing in employee engagement. For a free consultation on how you can build a vacation-friendly workplace culture, email Martha at Martha@marthafinney.com.
Latest posts by Martha Finney (see all)
Donate To Help Others
Donate to Doctors Without Borders
Check This Offer Out