Trouble At Work? 4 Team-Building Activities For Managers To Utilize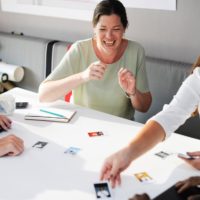 For many managers, leading a team (or multiple teams) can be tough. There may be personality clashes and certain individuals may not know how to work together. This can be a huge hindrance to productivity and the overall attitude of the workplace. Yet, such issues don't need to persist. A manager can take action by having their team participate in team-building activities that will help them to bond in a way that can lead to efficiency in their work.
If you're a manager who has been struggling with getting your team members to form some sense of unity or have been experiencing a lower productivity rate than normal, then here are just a few activities that you may want to consider having your team participate in:
Lunch and Group Discussion
Supposing that your company can provide the funding for it, take your team out to lunch. Don't make it a formal event, though. Encourage friendly conversation that isn't work-focused. In fact, make it a priority to not bring work up at all. This allows individuals to bond with each other as friends. Of course, coworkers don't have to become the best of friends and that should never be pushed. Yet, building strong relationships outside of a professional work setting will help team members to be able to work together inside of a work environment.
Visit an Escape Room
One of the biggest trends for group activities is participating in an escape room. Typically, these involve themed rooms where teams have to come together to find clues, solve riddles, and figure out codes in order to get out of the room. These games are timed and usually last about an hour. This type of activity helps team members to learn how to solve problems together. This lesson will transition into the workplace where problems can be solved relying on each other.
Have a Work Book Club
If you feel that your team needs to learn some type of attribute that could help strengthen, you can easily help them to learn it by choosing a book for everyone to read. Work is not school, and so reading the book should not be mandatory. However, you can present it to your team by telling them what you expect they'll be able to learn from it and how it'll strengthen them individually and the team as a whole. Then, schedule regular meetings for those who have chosen to read the book to participate in a discussion.
Participate in Charity
Doing good things for others tends to make us feel good in turn. Charity, though, comes in many forms. It could be helping out a local family, cleaning up a park, feeding the homeless, or whatever cause the members of your team are passionate about. Choose something that everyone is willing to set aside their work for an hour or two to participate in. By coming together for a common cause, your team may start to feel a sense of unity. This sense of togetherness will influence the way that they work together on projects where they'll have to work closely.
Whatever method you choose to help those you manage work better as a team, just make sure that it is done with fun in mind. If they enjoy each other's presence, then they'll enjoy working together. That will result in a much more positive and productive environment.
The following two tabs change content below.
Hannah Whittenly is a freelance writer and mother of two from Sacramento, CA. She enjoys kayaking and reading books by the lake. For your team-building activity, Hannah recommends
Houdini's Room Escape
.
Latest posts by Hannah Whittenly (see all)
Donate To Help Others
Donate to Doctors Without Borders
Check This Offer Out