How to Develop a Strategic Mindset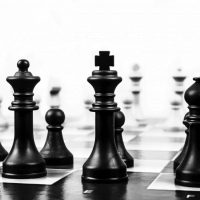 Being an HR manager, it's almost impossible to overestimate the importance of strategic thinking. Often, before we do something crucial, we think about all the details and make a plan. Sometimes it's enough to accurately forecast the future, sometimes it's not. Well, it's all about the strength of strategic thinking we have.
But have you ever though how would you life change if you were able to glimpse into the future without any pseudo-scientific knowledge and skills? Ahh.., it could have changed dramatically, in both business and private life!
Lucy Adams, one of the Buzz Essay writers, shares the tips on how to become more far-sighted and strategically savvy.
#1 Try to Anticipate
Of course, it's impossible to take into account all the nuances, but that doesn't mean you have to blindly rely on chance. In any situation, no matter how insignificant it seems, try to make a plan. At least, thereby you will practice. I will never cope with complicated planning if you don't begin with something smaller. At the start, not the content but the efforts are important.
Think over the possible scenarios of the event and get ready to react in the most appropriate way. Over time, you'll get used to thinking ahead, which will lead to a qualitative improvement and content.
#2 Be Critical
No matter how bright the prospects seem to be, think over the options when things go wrong or in another way than it was originally planned. Plan "B," or a path of retreat, is a must for any planning. It defines a good strategist.
At the same time, don't be too pessimistic because fear prevents us from making good decisions, driving into the trap of uncertainty and making doubt even in the obvious facts. Just look at the thing at different angles. Try to be honest with yourself. Wishful thinking and understated expectations are the top-2 things to avoid when thinking strategically.
#3 Analyze Previous Experience
In many areas of life, all things happening now are already happened before. Our life is largely cyclical. Turn to statistics and find relevant data. Learn to project the events of the past on the future. If you're facing the trouble, check whether it was already solved by someone. At least, you find a couple of similar problems that were or were not solved successfully. Adopting the experience of others is not a weakness but rather a requirement in a rapidly changing world.
However, there's another side of the coin. Often, companies that are on the crest of a wave don't respond to minor setbacks, negative trends in the market, competitors' actions, etc. They just ignore the outside world. The negative experiences are just thrown away. That may lead to the incomplete/distorted statistics of the company and its history. Remember that we've got only the statistic that is shown to us. Who can guarantee you that the numbers in the columns are fair? Thus, still rely on yourself.
#4 Ask Yourself Questions
Actually, it's a never-ending process. Once you stop asking questions, you lose the thread of the game. "What does it mean," "What will happen next?" "What this action will lead to?" An experienced strategist always ask questions to himself and never takes any of the concepts as the undeniable truth! This way of thinking allows you not to miss anything important in your business. Stay interested and curious.
#5 Go Beyond the Usual Thinking
This requirement is closely linked to the previous. In life, we use consumer logic and do not pay attention to the decisions that are made mechanically. As a result, we ignore various important details and start thinking inert and banal. This leads to the fact that when we face typical tasks, we can't solve it.
Try to think outside the box. Do routine thing differently. There are various ways to increase the ability to generate ideas, for example, brainstorming. The key is to feed your brain permanently.
#6 Involve Other People
No matter how smart you are, there are always people who are smarter than you in the narrowly-focused area. Two heads are better than one. Many genius inventions were made by amateurs, so never refuse to consider views of staff and friends. By the way, according to brainstorming practices, more diverse the team involved in solving the problem, the greater the number different views on the problem and finally, the better the problem is solved.
Well, here are just 6 basic tips that I hope will adjust your mindset. Strategic thinking requires a high level of intelligence and life experience. All the decisions we take are predetermined by our past experience, whether it was theoretical or practical. In general, personal development contributes to the development of strategic thinking.
The following two tabs change content below.
Lucy Adams is an essay professional, whose blog you can find
here.
. Lucy is always in touch with readers, so feel free contact here on any matter. She's a generalist interested in the market, advertising, design, and many other niches. There's a great chance you get a high-quality paper in response to your request, and 100% chance you get a fast response.
Latest posts by Lucy Adams (see all)
Donate To Help Others
Donate to Doctors Without Borders
Check This Offer Out