You Could be a Status Quo Thinker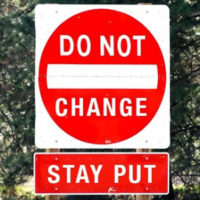 If you utter the words "that is how we've always done it,"
You could be a status quo thinker.
If your key policies or procedures are dated two decades ago without revisions,
You could be a status quo thinker.
If your first inclination to a new idea is to figure out how it can't be done,
You could be a status quo thinker.
If you stop with "it is what it is" versus "what could be,"
You could be a status quo thinker.
If you are a manager, director or leader and can't think beyond the job description to influence things like customer service,
You could be a status quo thinker.  
If comparing progress to last year only versus also the "ideal future state,"
You could be a status quo thinker.
If the phrase "brainstorm new solutions" causes brain freeze,
You could be a status quo thinker.
Let's face it. The status quo is the status isn't.  Economic, regulatory and competitive pressures require businesses to think differently to remain viable. If you've heard any of the above then you know status quo thinking still lives in your organization.
Here are three ways to shake status quo thinking loose.
Look in the "Let's Be Honest" mirror – If you are a manager, director, VP or C-Suite member look in the "let's be honest" mirror. Are any of the above statements an echo of your own thoughts? Be self-aware and identify if you have been modeling status quo thinking to your staff or coworkers.  If you have, stop and change your leadership approach.
Measure against ideal future state – We often see or hear reports that measure our performance over last year. That's great if you want to make only incremental changes. Sometimes incremental changes are all that is needed. However, there are times making bold changes are required to overcome significant challenges such as economic, regulatory, disruptive or competitive changes.  What does your ideal future state look like? Where do you stand today up against your ideal future state?
Chase the water and kick up dust – I have a sheltie that loves to chase the water when sprayed from the garden hose. I love to watch her run as fast as her little legs can carry her kicking up dust along the way. Kick up some dust and find out why there is little to no movement on key organizational objectives. Ask questions. Ask many questions. Interview people, reevaluate systems and processes, dig into information.  Be wary of people who resist, drag their feet on producing information, or continuously say it can't be done, because alas, those could be status quo thinkers.  Challenge those individuals, chase the water and kick up dust. You might be surprised at what you find.
If you are a status quo thinker then settling for mediocre works for you. But if you are not, wake up, get discontented with how things have always been done and do something about it.
"Be fearful of mediocrity." Jonathan Ellery
What other signs have you seen that indicate status quo thinking?
The following two tabs change content below.
Tresha D. Moreland, MBA, MS, FACHE, SPHR, SSBBP, founder of HR C-Suite, is an HR thought leader in Human Resource Strategic Management. She has held key human resource leadership roles for over 20 years in multiple industries most recently a senior vice president in the healthcare industry. Tresha is the founder and publisher of HR C-Suite (www.hrcsuite.com). HR C-Suite is a game changer results-based HR strategy website. It is a first-of-it's-kind site that organizes HR strategy based on desired business result. She has developed a business philosophy of integrating human resources with business strategy, thus creating a hybrid HR leadership approach. This approach enables the leveraging human resources to achieve business results.
Latest posts by Tresha Moreland (see all)
Donate To Help Others
Donate to Doctors Without Borders
Check This Offer Out