Sexual Harassment Prevention Strategies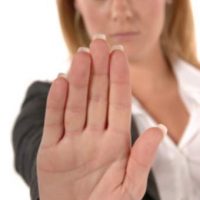 Although workplace equality has come leaps and bounds in the last few decades, sexual harassment is still a very serious issue. Employers are often held liable when their employees exhibit sexually harassing behavior, so it's important that you take the time to learn prevention strategies for the workplace.
Put a policy in place.
Many employers have a written policy that prohibits sexual harassment, but it's buried deep within an employment manual or tucked away in the corner of the company's intranet. However, employers that are serious about preventing sexual harassment have a clear policy that outlines disciplinary actions that will be taken against those who violate the rules, as well as information on who to contact with complaints. Employers should make sure every new hire receives a copy of the policy and that it is posted in common areas throughout the office.
Create the right culture.
If you don't want sexual harassment to occur in your workplace, then it's best to eliminate activities that could increase the risk of this illegal behavior. If there are after-work activities, be sure that they still are work-related and don't put a superior and his or her employee in an uncomfortable situation. In today's offices, managers and their employees tend to have a close relationship, but management should understand there's a line that can't be crossed. Under no circumstance should employees feel comfortable telling offensive or degrading jokes to each other or commenting on a co-worker's physique. Remember, culture is set at the top of the company and then trickles down to the employees, so create a culture that does not breed sexually harassing behaviors.
Take every complaint seriously.
Employees want to know that their voice is being heard, so when they are brave enough to report sexual harassment, it is your duty to investigate the allegations. Be sure to communicate frequently with the employee who reported the behavior throughout the investigation to let her know that you're on top of it. If you do not believe that the behavior was sexually harassing, hold a private meeting with the employee to thank her for bringing it to your attention. Explain why the behavior was not harassing, but encourage her to continue to report anything that she believes is violating the company's policies. Even if a complaint is filed against the nicest guy in the office who you could never imagine acting inappropriately, you must take it seriously and conduct a thorough investigation.
Enforce the rules equally.
Even if employers have a clear policy against sexual harassment, it means nothing if they don't follow through with the consequences. It's inevitable that every employee—even senior level executives—will make friends or allies in the office, so it can be difficult to discipline people who you have a bond with. However, if you show leniency towards one person, you better believe that everyone in the office will eventually find out. This will show employees that the policy is not taken seriously and sexual harassment is not a punishable offense. Stand by your word and follow through with whatever consequences you've outlined in the policy, even if it means disciplining your right hand man.
Hold trainings.
Every new hire should go through a training program that discusses the company's sexual harassment policy, but that shouldn't be the end of it. Annual trainings should be held to refresh employees' memories, but make sure that you're not just reading off of a PowerPoint or handout. Make the training more engaging by going over specific scenarios and discussing why they are considered sexually harassing. The more that this is discussed in the workplace, the more obvious it is to employees that it's not to be taken lightly.
Remember, preventing sexual harassment is a team effort. Every employee in your company must be on board with treating each other with nothing but respect.
The following two tabs change content below.
Cortney Shegerian is an attorney with Los Angeles based
Shegerian & Associates
. Shegerian's practice areas of expertise include discrimination, harassment, whistle blower retaliation and wrongful termination, among others. Her work includes all aspects of case management, with a particular emphasis on mediation, trial preparation and jury trial litigation.
Latest posts by Cortney Shegerian (see all)
Donate To Help Others
Donate to Doctors Without Borders
Check This Offer Out