5 Warning Shots People Fire Before Saying "I Quit"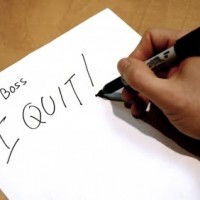 Do you know when an employee is about to quit, or does it always come as a surprise when the worker makes the announcement?
If you never see an employee's departure coming, you might not be paying attention to certain indications. Below are five warning signs that someone is about to leave the company.
They're Dressing to Impress, and It's Not for Their Current Job
You've noticed Jon is wearing suits and ties to work. He never wears suits and ties to work. Moreover, he's not meeting with any clients or making any presentations that would require him to wear anything other than business casual attire.
When employees are dressed to go on an interview, and there's no reason that you know of for them to be decked out, there's a very good chance they've scheduled a meeting with a potential employer. And if they're coming in late, leaving early, or ducking out in the middle of the day, the chances are even better that they're headed towards an interview.
They're Doing the Bare Minimum
Kelly would always go the extra mile on projects and assignments. The quality of her work mattered. Over the past two months, Kelly has stopped putting in all that effort. She's doing what she needs to do to get her job done, but not much more.
A clear sign that an employee wants to leave the company is that he or she isn't putting in the same energy as before. The standard of the employee's work isn't awful; it's passable. He or she doesn't want to get fired, though the employee clearly doesn't care about his or her current job.
Their Coworkers Complain
When Michelle started at your company, she was energetic, motivated and committed. Lately, she seems dispirited and far less engaged. And her coworkers are beginning to notice. You've heard chatter at the water cooler from Jenny and Mark that they've had to pick up the slack.
You might not be in a position to notice an employee's day-to-day behavior or performance. So, it might not be obvious that this person's capacity to fulfill the duties of the job has diminished. However, when the rumor mill begins to grind, you should pay attention.
They Don't Want to Climb the Corporate Ladder Anymore
Jim used to be very enthusiastic about trying to get ahead at work. He would talk to his boss all the time about opportunities for advancement… until recently. Now, he just doesn't seem interested in promotion at all.
If an employee was previously zealous about moving up the firm's hierarchy, and now he or she doesn't seem to care much about the possibility, that individual most likely doesn't want to stay with the organization. Otherwise, he or she would be excited about the prospect of climbing the corporate ladder.
Their Social Network at the Office Shrinks
Amy would always have lunch with the same group of people every day. In the past couple of weeks, she's either gone out to eat or she takes lunch at her desk, alone.
Part of what makes work pleasant for people is social interaction. A sign that an employee is ready to move on is that he or she withdraws from friends from the office.
How to See the Signs Before They Quit
Employee yearly reviews shouldn't be the only time you meet and talk to employees.
Consider conducting regular 360 reviews for yourself. This also gives more in-depth feedback than a traditional manager-employee assessment. It gives you feedback about an employee from every level around them, so accomplishments don't go unchecked and small issues are stopped before they become a big problem.
An employee will warn you before they quit. The key is to know what to listen for.
The following two tabs change content below.
This article has been submitted by the team at Grapevine Evaluations. Grapevine is a web based tool designed for HR departments to easily create, manage and distribute online
360 degree feedback
employee evaluations for any sized organization.
Latest posts by Grapevine Evaluations (see all)
Donate To Help Others
Donate to Doctors Without Borders
Check This Offer Out