Productivity
The following two tabs change content below.
Tresha D. Moreland, MBA, MS, FACHE, SPHR, SSBBP, founder of HR C-Suite, is an HR thought leader in Human Resource Strategic Management. She has held key human resource leadership roles for over 20 years in multiple industries most recently a senior vice president in the healthcare industry. Tresha is the founder and publisher of HR C-Suite (www.hrcsuite.com). HR C-Suite is a game changer results-based HR strategy website. It is a first-of-it's-kind site that organizes HR strategy based on desired business result. She has developed a business philosophy of integrating human resources with business strategy, thus creating a hybrid HR leadership approach. This approach enables the leveraging human resources to achieve business results.
Latest posts by Tresha Moreland (see all)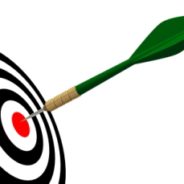 Many companies are using the highly effective goal setting framework Objectives and Key Results (OKRs) to create, track, and measure their goals for company-wide alignment. By creating clarity and transparency for each and every goal throughout the organization, you can give employees a direct line of sight into the company priorities, which will lead to increased focus and engagement. Yet, setting Objectives for the entire organization is challenging. With so many factors to consider, executives often struggle to figure out where to begin....
read more