4 Recruiting Metrics You Should Really Care About!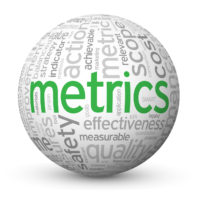 While hiring a new employee, several factors are at play. You need to look at qualifications, skills, and experience among many other aspects. In order to perform this important decision with accuracy and precision, recruiting experts take help of several recruiting metrics.
Of course, not all metrics you read about are effective for every organization. However, we've rounded up here some of the generic metrics that are applicable for every organization:
Time Period For Hiring Processes
It's a good idea to measure the time span from the movement you have a vacancy to successfully filling it. One should also look at how much time it takes for a successful candidate to actually become part of the workplace.
If your talent management process is strong, the hiring time and process would automatically become faster. One should not compromise on hiring standards, but also know when to give way. The hiring process should be as short as possible.
Of course, one should also be aware of external influences on the hiring time. This could be a shortage of candidates on the job market or a saturation of the industry as a whole.
Sources And References
Your candidates would likely give you several references and sources within their resumes and interviews. Background checks and cross checking is always a good idea. Your new hires are going to be important elements within your workforce. Checking them out before you hire can lead to a huge saving in your time and energy.
With the advent of social media, there are multiple ways to source your candidates. LinkedIn, personal contacts, and Facebook pages are available for scourging out important details about any individual.
Recruiting officers need to know about applicants from each source, how qualified they are, where they were sourced. They also need to find out where the high-quality candidates learned about the vacancy.
If one of these metrics is not working, shutting it down may be the best option. Keeping updated on the effectiveness of the metrics would thus save a lot of money in the long run.
If a certain channel is producing high-quality applicants for you, however, this is the time to hold on to it. Develop and strengthen your contacts there, if possible. With such a metric, thus, recruiters would know where to focus their energies on.
Hiring Costs
Measuring the cost of every hire seems an obvious tip, but not every company takes into account all the fringe costs. You may have a recruiter fee or salary, but that's not all. The cost of the interviews in terms of time, advertisements, maintenance of social media posts etc. All these factors are worthy of note.
Additionally, one also needs to look at administrative and accounting costs involved in the hiring processes. This largely depends on the benefits package offered. This may include health benefits, pay accounts etc, not to mention the time and cost of drawing up contracts and agreements.
Retaining Employees Once Hired
The retention rates and turnover rates of a company highlight just how successful it is. If the organization can't seem to hold on to a new employee, or old ones, it means that they're rapidly losing money. Losing an employee means that their work is lost, a new hiring process must start, and workplace morale goes down to boot.
Losing an employee is a devastating procedure for any company. If the separation is not amicable, the ex-employee may even spread negativity about their former workplace. This may cause harm to company's reputation, resulting in lower sales and loyalty.
Wrapping Up…
Alongside the metrics above, one may also include other measures such as the gender ratio and offer to acceptance ratio. All these measures taken together must be implemented correctly. There is also certain software available for download which could help you out with such a project.
The following two tabs change content below.
Tresha D. Moreland, MBA, MS, FACHE, SPHR, SSBBP, founder of HR C-Suite, is an HR thought leader in Human Resource Strategic Management. She has held key human resource leadership roles for over 20 years in multiple industries most recently a senior vice president in the healthcare industry. Tresha is the founder and publisher of HR C-Suite (www.hrcsuite.com). HR C-Suite is a game changer results-based HR strategy website. It is a first-of-it's-kind site that organizes HR strategy based on desired business result. She has developed a business philosophy of integrating human resources with business strategy, thus creating a hybrid HR leadership approach. This approach enables the leveraging human resources to achieve business results.
Latest posts by Tresha Moreland (see all)
Donate To Help Others
Donate to Doctors Without Borders
Check This Offer Out