Stuck in a rut? Lessons Learned from Early Pioneers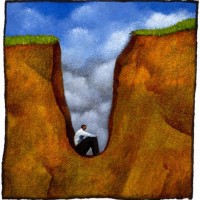 The phrase "stuck in a rut" is thought to come from the early 1800's when wheels from covered wagons would eventually end up in a "rut" or in a worn groove in a path. Of course quite literally being "stuck in rut" in that day meant that it would be difficult to get out and move along in the journey.
Today, we often use the phrase referencing the feeling of doing the same things over and over which leads to boredom. By boredom I don't mean having nothing to do. There is always something going on in the workplace that needs attention, revising, counseling, improving, developing, implementing, creating, planning, managing or maintaining.  Certainly no two days are ever the same.

But even if you are one of the blessed few who never been "stuck in a rut", at least you may have worked with employees who do feel this way. This is particularly true in an economic climate where people may not be so anxious to move on to other opportunities out of fear of uncertainty. So they may choose to stay put and in a mindless rut. The danger of a long term rut in the workplace is that people may slip into "auto-pilot" mode. In industries were good attentive quality and responsiveness to issues may mean the difference between life and death, good or bad health, or good or bad public relations. To ensure good outcomes every time means "autopilot" mode is simply not an option.  
Stuck in rut also applies to organizational innovation. My late colleague Colonel (Ret) Terry Fobbs, PhD once reminded me that there is no excuse to stop innovating. This is true whether there is a bad economy or not. This country was founded on good ideas and the early pioneers certainly had lots of them.
Just as we borrowed the phrase "stuck in a rut" from the early pioneers we may also learn something from them in how to get out of one.   The excerpt in this article is a story from early pioneers who traveled the historical Oregon-California Trail in the 1800's. The route consists of 2,170 miles stretched from Missouri to Oregon and California. 
"When in 1843 the frontier fever assumed an epidemic form on a small scale in Missouri, my parents determined to cross the desert plains to the far distant territory of Oregon. Such a journey in those days was no child's play, performed as it was with ox teams, plodding through the dust and heat, climbing mountains and swimming rivers, and not knowing one minute what the next would bring forth.
It was men of the character and disposition to face such dangers accompanied by their heroic wives, mothers and sisters, who severed all connecting them with home and civilization and struck out boldly upon a trackless desert, known to be inhabited by howling wolves and merciless savages, surrounded by dangers, seen and unseen, who I undertake to say, were the chief event to save Oregon to the United States. Hence, I was a pioneer from necessity and in fact, and have ever looked at it without romantic coloring, but as a stern reality to fulfill a duty or destiny.
The early pioneers were forced to live mostly on bread and boiled wheat and drink pea coffee. They lived in log cabins, slept on blankets wore moccasins and buckskin pants, and endured many trials and difficulties." David Arthur, Sunday Oregonian, 1889  
Take a risk. Overcome difficulty and uncertainty.  
Roy Roger's birthday is November 5, 1911.  So I reckon using this quote seems downright fittin'. "It's the way you ride the trail that counts."
Okay maybe we don't all sing western ballads and have a wonderful horse called Trigger. But my point is "riding the  trail" is required. How you choose to ride the trail matters.  Taking action or sticking head in the sand and hope it all goes away? 
I get it -- the unknown is uncomfortable and in uncertain realities who really wants to take unnecessary risks? But the unknown didn't stop early pioneers. So should being uncomfortable stop us from wanting to continue to grow, develop and moving forward?  I think not.
Fulfilling a duty or destiny.  
What do you think compelled the early pioneers to face seen or unseen dangers and cross the plains and wilderness? Purpose, duty, destiny, the search for a better life and opportunity compelled many to make the move.
In Martha Finney's book, "The Truth About Getting the Best From People" she writes "Everyone has a story – a saga. Actually – of learning, working hard, pursuing his or her dreams, finding his or her life's purpose, making tremendous sacrifices, beating the odds, saving his family, saving his children, saving his marriage, saving himself. And for many of these people, their jobs play an essential role in the saga of personal purpose."(Finney, pg. 74)
So these questions are worth considering. What is your personal purpose? What is your organization's purpose and mission? Since you are the author of your own story and you are not on the last chapter, what will you write? If you are a manager and influence others in the workplace what role will you play in organizational stories?
Bread, Boiled Wheat, and Pea Coffee - Know your options or create them.   
Sipping on my grande Cinnamon Dolce non-fat Latte no whip cream while reading this excerpt, the thought occurred to me that at least we have options. One sure way to be stuck in a rut drinking pea coffee is to simply stay put doing the same thing every day without striving to better ourselves, our organizations and the service we provide customers and the community.
If no options are readily available, we certainly have the ability to create them.  On a personal level going back to school, volunteering for a project, or networking with professional groups has the potential to lead to other growth options.   Walk through one door and another may open.  
On an organizational level try the workforce in finding innovative solutions. You might uncover a path to genius despite resource limitations.
I am thankful for the courage and determination of these early pioneers. Certainly the challenges we face in the workplace today do not compare to those who lost their lives crossing this great nation those many decades ago.  However, when feeling like you are "stuck in a rut", think about the early pioneers and get on the path of developing, creating, and innovating. Happy trails to you!
What's your story?
The following two tabs change content below.
Tresha D. Moreland, MBA, MS, FACHE, SPHR, SSBBP, founder of HR C-Suite, is an HR thought leader in Human Resource Strategic Management. She has held key human resource leadership roles for over 20 years in multiple industries most recently a senior vice president in the healthcare industry. Tresha is the founder and publisher of HR C-Suite (www.hrcsuite.com). HR C-Suite is a game changer results-based HR strategy website. It is a first-of-it's-kind site that organizes HR strategy based on desired business result. She has developed a business philosophy of integrating human resources with business strategy, thus creating a hybrid HR leadership approach. This approach enables the leveraging human resources to achieve business results.
Latest posts by Tresha Moreland (see all)
Donate To Help Others
Donate to Doctors Without Borders
Check This Offer Out