6 Winning Strategies To Implement In Mobile Recruiting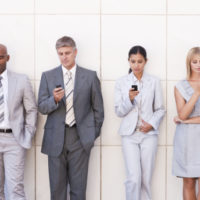 Mobile recruiting has been around for over a decade now, but it still continues to evolve with time. It has also altered the pattern of how employers and job seekers behave.
Nowadays, tablets, smartphones as well as other handheld or mobile devices are quickly becoming the main tools for researching companies and applying for a job and superseding the conventional methods.
As a matter of fact, a study conducted by Aberdeen Group found that about 70% of the respondents were already using mobile phones as a means for job hunting, while 51% have already applied for jobs using those devices.
By using mobile recruiting as leverage, you can escape massive drop-off rates and increase employee conversion rates.
Here's what you need to do to ensure your mobile recruiting operation goes well without a hitch.
Optimize Your Websites
The first thing that you must ensure in this process is to make sure your corporate and career websites are optimized. It helps in promoting a positive employment brand, drive online traffic and enhance application rates.
To enhance the visitor experience, you have to ensure that your website loads quickly andthat it shows a smooth transition from your main site, with a branded careers page that matches the overall theme of the web.
Whichever path your visitors take, either social media or job boards, they must be directed to mobile-optimized pages.
A study from the CareerBuilder found that 65% of the candidates would leave a company's website if they found it to be difficult to use on their mobile device.
Engage Candidates With An Immediate Text Or Email
Given how massive the content world has become with countless emails, texts and social media comments, the attention span of users has diminished greatly over the years. As such, quick or immediate feedback is highly vital if you wish to keep your candidates interested and engaged once they drop a message or text.
Most of the people around the world expect you to respond to their application within a day or two. You don't have to worry about committing an interview at the moment; only confirm from your side that you have received their application and are reviewing it.
Use Videos
Video content is the easiest way to grab the attention of the audience. Apart from all the videos that you can put up on YouTube, live videos have also been gaining traction since last year. Don't be afraid to test out platforms that made it possible like Periscope, Snapchat, but best of all, Facebook.
Try organizing a 30-minute live job search session in which you can constantly take questions from your viewers, who in this case are job applicants. You can also record a Google Hangout video and upload it on your careers page. Be as creative as you have to be as it will help you a lot along the way.
Mobile-Enabled Job Application
Even though many companies have decided to opt for the mobileway to apply for a job, the numbers are still quite low. With their short attention span, you are going to have to keep the application process as simple as you have to.
Be sure to keep it a one-click apply option, with links that are easy to follow with a working search facility, brief job descriptions, as well as the option to apply by using your LinkedIn profile without having to upload resumes or cover letters.
Making application process shorter is the only way to grab the attention of the job seekers.
Mobile Video Conference Interviews
Now you can conduct interviews even while the applicants are on the move, out of town or on the other side of the world. This method is arguably the most convenient and increasingly popular among employers and job seekers today. It can dramatically increase the number of qualified candidates for you.
It saves job seekers both on time to travel to the office and save up on fuel. Usually, Skype would be the only appropriate choice for video conferencing, but Google's Hangouts app has been growing over the years. The best part of it all is that it is completely free.
What's more is that the app has a variety of functions to make the conference more convenientand simpler even if the applicant is not tech savvy. It is important to ensure that the candidates are comfortable using the equipment and applications involved.
Make Talent Pipelines
If you want to give your company a prominent and favorable presence as an employer brand, you will need to create and nurture talent pipelines by sending automated updates to applicants who have expressed interestin learning more about career events and job openings within your company.
Engagement with candidates has to be consistent. Other than that, it is imperative that you respond to every inquiry immediately.
The following two tabs change content below.
Tresha D. Moreland, MBA, MS, FACHE, SPHR, SSBBP, founder of HR C-Suite, is an HR thought leader in Human Resource Strategic Management. She has held key human resource leadership roles for over 20 years in multiple industries most recently a senior vice president in the healthcare industry. Tresha is the founder and publisher of HR C-Suite (www.hrcsuite.com). HR C-Suite is a game changer results-based HR strategy website. It is a first-of-it's-kind site that organizes HR strategy based on desired business result. She has developed a business philosophy of integrating human resources with business strategy, thus creating a hybrid HR leadership approach. This approach enables the leveraging human resources to achieve business results.
Latest posts by Tresha Moreland (see all)
Donate To Help Others
Donate to Doctors Without Borders
Check This Offer Out