How Texting May Be the Future of Mobile HR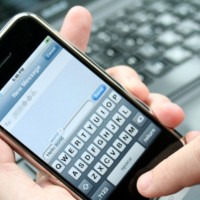 Chances are you've sent more texts today than you have emails. You've probably checked in at home, discussed
what to have for dinner, coordinated the after-school pick-up with your kids, talked to a few friends, and you may have even gotten some texts from some companies you routinely buy products or contract services from, but how many times today have you used SMS messaging to get in touch with potential or current employees? Chances are the answer is none. There is an understandable fear of using texting as a part of professional communication, but if you know how to navigate the potential pitfalls, it turns out that SMS may well be the future of mobile HR.
Simple Messages, Simple Medium
When you have to get the word out to your employees quickly, what do you do? Some companies rely on bulk emails or inter-office instant messaging, but those delivery channels are typically optimized for desktop use (not surprising given the way office computer networks are designed) and people aren't nearly as tied to their offices as they used to be. If you're sending out a notice saying "the CEO is in the lobby for a surprise inspection!" or that the building is going to be closed due to a last-minute fumigation to fight a pesky rodent infestation, you want to make sure people know about it ASAP – and that's exactly what SMS helps you do, in a way that increases both productivity and efficiency.
SMS Messages Actually Get Read
There are more than 205 billion emails sent every day, and it turns out that most of them aren't being read. Though the open rate of emails depends on the industry the sender is in, but on average you can expect only 20-40 percent of the emails you send to end up anywhere but in the virtual trash can, sadly unopened. On the other hand, a staggering 90 percent of text messages are actually read, and they're read within minutes. Clearly if you want to make sure your message is getting across, you need to send it via text.
It's Ridiculously Convenient
Have an employee who has an urgent insurance question and can't remember the corporate phone number? You could head to your computer, look up the digital company directory, and forward the file, or you can snap a picture of the general contact information on the back of your own company card and send it right over. It's fast, it's efficient, and you're actually sending more data in less time. The convenience factor also comes into play when trying to build up a rapport with your staff; you can take short videos of the annual talent show and share them with everyone after the event, or you can use bulk email to figure out what everyone is bringing to the upcoming company picnic.
It's Good for Future Employees or Active Recruits, Too
We've already established that texting is both effective and immediate, now add in mobile marketing automation (MMA) and you've got a tool that can majorly impact how you interact with potential recruits. You're busy and it's hard to respond to every job application or inquiry in a timely manner, but MMA serves up customized responses when the applicant needs them – not when you have a chance to send them out. You can set up MMA system to let previous applicants know about new job openings, remind people current in the interview process of documents that need to be filed, and even schedule follow-up interviews in a few quick sentences. There's also the added benefit of discretion: a JobVita survey found that 51 percent of active job seekers are actually already employed, and it may be difficult for them to open an email on their currently company computer or receive a phone call during business hours that may be overheard. SMS messages can be read quickly, quietly, and anyone nearby will just assume that the text is personal in nature rather than professional.
There are already 6 billion SMS messages sent every day in the U.S. It's a comfortable tool that people are already happily using on a regular basis – why not piggyback on that success and use SMS to work your HR magic in a smarter, more effective way?
Isn't that a statistic you want to be a part of?
The following two tabs change content below.
Sophorn is an inbound marketer specializing in attracting targeted visitors and generating sales qualified leads. Through Trumpia's
SMS marketing
automation solution he helps businesses and organizations communicate effectively with their customers or members. Watch
Trumpia's 5-Minute Demo
on how to execute an effective mobile marketing strategy.
Latest posts by Sophorn Chhay (see all)
Donate To Help Others
Donate to Doctors Without Borders
Check This Offer Out