You Be the Judge: Should Minimum Wage be $15?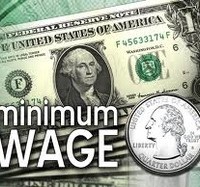 Running the drive-thru for Taco Bell was one of the first jobs I had before and during college. That was many years ago (more than I care to admit). My rate of pay then was $3.50 an hour. While it wasn't a lot, it was enough to help buy textbooks for college. I always believed this first job was a temporary stepping-stone to get to a different place in my career and life.
Today fast food wages is at the center of a minimum wage debate. According to the Bureau of Labor Statistics, there are about 1.6 million Americans are earning minimum wage.
This is an issue that every business owner, corporate leader, human resources and compensation professional should watch. If the cost of labor outpaces productivity then your organization will see a negative impact. See our Economics of Labor Article here.
Those who support raising minimum wage feel it is hardly enough to enable people to rise above poverty. Supporters argue that minimum wage doesn't hold its value today as the cost of living continues to rise. The premise is that the cost of putting oneself through school or saving money to start a business it too difficult living on minimum wage. Further the claim states that raising minimum wage will create jobs because it will increase the volume of spending.
Opponents argue just the opposite and state concerns of that move will cost Americans more jobs. Studies are showing job reduction in Seattle since the implementation of the $15 an hour minimum wage. See Tim Worstall's "Seattle's $15 An Hour" piece in Forbes here. Additional arguments against increasing minimum wage include the raising of labor costs will compel employers to cut jobs, cut hours, cut non-compensation items, and/or pass costs onto the consumer in order to cope and keep doors open.
Note to self: Enjoy the $1 value menu while you can.
Meanwhile, what is your opinion on this issue? Shall the minimum wage be raised to $15 an hour? Let us know in the comments below.
The following two tabs change content below.
Tresha D. Moreland, MBA, MS, FACHE, SPHR, SSBBP, founder of HR C-Suite, is an HR thought leader in Human Resource Strategic Management. She has held key human resource leadership roles for over 20 years in multiple industries most recently a senior vice president in the healthcare industry. Tresha is the founder and publisher of HR C-Suite (www.hrcsuite.com). HR C-Suite is a game changer results-based HR strategy website. It is a first-of-it's-kind site that organizes HR strategy based on desired business result. She has developed a business philosophy of integrating human resources with business strategy, thus creating a hybrid HR leadership approach. This approach enables the leveraging human resources to achieve business results.
Latest posts by Tresha Moreland (see all)
Donate To Help Others
Donate to Doctors Without Borders
Check This Offer Out