Mentoring Tips: How to Help Discouraged Employees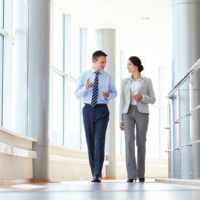 It is bad enough that people must work to survive. When you do not have the means to walk away from a frustrating job, this can make your life an endless nightmare. You would like to quit, but the alternatives to not working are as unpleasant, if not worse, than actually returning to a job you hate. Before you know it, you dread going to work because there seems to be no way out of your situation. This is the problem that many discouraged employees face every day of their lives. Sometimes, all that is needed to improve their situation is a little mentoring. Here are a few ways you can help a discouraged employee.
Isolate the Nature of Their Frustration
Sometimes all a discouraged employee needs is someone to vent to who can give them a little constructive feedback. Often the only problem with such employees is that they are inexperienced when it comes to troubleshooting their own problems at work. By helping them to isolate the root causes behind their work-related frustrations, this exercise will often help them figure out some way to more efficiently cope with their employment situation.
Take Action
Another major cause of work-related discouragement arises from a failure to take decisive action. Often this arises when there is one part of the job where an employee does not know how to complete something required in their daily work routine. Failure to follow through can even create conflict with a superior. The fear of messing up can further compound their discouragement. By helping the discouraged employee to develop a plan of taking decisive action to overcome the obstacle in their daily routine, you will help them to empower themselves to be able to tackle the obstacles that stand between themselves and having an easier time making it through the work day.
Poor Team Skills
You might be heading up the new team for the big project at work and find that one of your team members just cannot seem to get their act together. No matter how much you think you are helping them cope, the more frustrated and discouraged they become towards you. In these situations, it would help to possess the leadership skills to truly know how to properly motivate such an employee to take off in the right direction. By obtaining an online master's in leadership, you will obtain the skills to better handle this type of conflict involving members of your team.
Try Something New
The discouragement many employees experience is due to simple burn out. They cannot motivate themselves to do their job well, because they are sick and tired of doing the same old boring job. Sometimes the best advice you can give such an employee is the encouragement to try something new. If they are unhappy in the job for too long, they will stop giving their best. This type of employee may need to switch jobs to get some variety in their life. Alternatively, if they do not feel challenged anymore, it may be good to suggest that they look into going into business for themselves.
Wrapping It Up
Discouraged employees exist in nearly every workplace. As employees begin to feel inadequate, unchallenged and even beaten up by their job, repeating this cycle of frustration does little to improve their spirits. Change, though it may be hard for employees and their employers to accept, is perhaps one of the best ways to bring encouragement and hope back into an employee's life.
The following two tabs change content below.
Tresha D. Moreland, MBA, MS, FACHE, SPHR, SSBBP, founder of HR C-Suite, is an HR thought leader in Human Resource Strategic Management. She has held key human resource leadership roles for over 20 years in multiple industries most recently a senior vice president in the healthcare industry. Tresha is the founder and publisher of HR C-Suite (www.hrcsuite.com). HR C-Suite is a game changer results-based HR strategy website. It is a first-of-it's-kind site that organizes HR strategy based on desired business result. She has developed a business philosophy of integrating human resources with business strategy, thus creating a hybrid HR leadership approach. This approach enables the leveraging human resources to achieve business results.
Latest posts by Tresha Moreland (see all)
Donate To Help Others
Donate to Doctors Without Borders
Check This Offer Out