5 Things That Keep Employees Engaged And Happy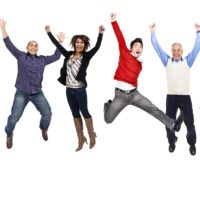 Have you ever held a job that you really, truly hated?
We're not talking about work that was dangerous or illegal; that's another matter entirely. But maybe you worked in a place wherein the management treated lower-level employees like indentured servants, or there was no organization, or no one communicated properly with each other. There are a lot of reasons that people can feel miserable at their job, and the simple fact is that unhappy employees are far more likely to quit than stick around. And as nearly every business owner knows, it's generally more expensive (and inconvenient) to recruit and train a new employee than it is to hold on to an existing employee.
Here are some tips for keeping your employees happy and engaged. If you make a conscious effort to create a functional, "nice" work environment, you may just be able to decrease employee turnover at your company.
1. Give Raises (and Promotions) When Employees Earn Them
We'll get this one out of the way first because it's fairly obvious. For many folks, nothing quite says, "We appreciate the work you're doing here!" like seeing a little extra in their paycheck at the end of the month. And at the same time, nothing quite says, "This is a dead-end job and what you're doing here doesn't matter," like never receiving a cost-of-living raise or a promotion despite years of loyal service and impeccable work. Instead of waiting for your employees to start hounding you for these things, be proactive about offering rewards. Doing so will show that you see them as valued employees—not just worker drones.
2. Have Your Employees' Backs
"The customer is always right." That phrase used to be touted as absolute gospel in the business world, but these days, more and more companies are moving away from it. Sometimes, it is worth going against corporate policy or giving a manager's "override" in order to accommodate upset customers; this can often turn a negative experience into a positive one. That said, employees should feel confident that they won't be scapegoated or undermined in order to appease hostile, demanding, or unreasonable clients. Stand up for your employees; do not allow customers—even paying customers—to treat them like dirt. You'll earn their appreciation and respect very quickly!
3. Keep the Lines of Communication Open
If employees are afraid to discuss work-related questions, concerns, or comments with their immediate supervisors, then something is wrong. Clear, open communication between staff members is absolutely critical for a business to succeed! So ask for and provide feedback to your employees on a regular basis, explain goals and expectations in a concise manner, and listen when a worker brings something to your attention. Not only can opening the lines of communication reduce conflict and confusion in the office, but it's another gesture that will boost your employees' confidence and self-esteem. It shows your team that you think that everyone has something to bring to the table—and everyone deserves to be heard.
4. Take the Lead
Employees who think that their managers and supervisors don't really know what they're doing or are in "over their heads" tend to be unhappy in their workplace. They might feel like issues don't get resolved due to a lack of strong leadership, and they may even wonder if they should look for a new job before things start to fall apart. So while it's probably not necessary (and may even be counter-productive) to micromanage your staff, everyone should have a definite idea of the chain of command in your business and what duties are expected of them. This allows for better problem-solving practices (because everyone will know who's responsible for what) and less "wheel-spinning." It can also take some stress off of your employees' shoulders; they won't have to worry that they'll be reprimanded for not completing a task that they had no idea they were in charge of, and they'll know who to approach when clarification is needed.
5. Give them opportunities to learn and grow.
Employees who feel "stuck" in their position tend to grow bored and restless; that's just human nature. So don't be afraid to give them a chance to challenge themselves, learn new skills, or even take on more responsibilities. Cross-training with different departments can be wonderful for facilitating this; not only does it encourage employees to talk to (and form relationships with) folks in other areas of the company, but it also allows workers to get a more nuanced, "complete" view of how the business works. And given an opportunity to explore, employees who are "good" in their current area may discover that they're actually "excellent" in another area!
***
Are you the kind of boss that you would like to work for? Is your company the sort of place where you'd like to work? Do you treat your employees the way that you'd want to be treated if your roles were reversed?
Ask yourself these questions and really think about the answers. Keeping employees happy and engaged isn't rocket science; it often just comes down to creating an environment of respect and camaraderie. While there's no way to guarantee that your favorite staff member won't move on to greener pastures someday, it is possible to create a healthy, positive, functional workplace where your employees can thrive.
Author Bio
Mark Sinatra is the CEO of Staff One, a leading human resource consulting and professional employer organization licensed in 44 states. Mark is actively involved in the PEO industry as a Board Director of both ESAC and NAPEO. He's also Vice Chairperson of First3 Years and a Board Director with Social Venture Partners – Dallas.
The following two tabs change content below.
Tresha D. Moreland, MBA, MS, FACHE, SPHR, SSBBP, founder of HR C-Suite, is an HR thought leader in Human Resource Strategic Management. She has held key human resource leadership roles for over 20 years in multiple industries most recently a senior vice president in the healthcare industry. Tresha is the founder and publisher of HR C-Suite (www.hrcsuite.com). HR C-Suite is a game changer results-based HR strategy website. It is a first-of-it's-kind site that organizes HR strategy based on desired business result. She has developed a business philosophy of integrating human resources with business strategy, thus creating a hybrid HR leadership approach. This approach enables the leveraging human resources to achieve business results.
Latest posts by Tresha Moreland (see all)
Donate To Help Others
Donate to Doctors Without Borders
Check This Offer Out