Successfully Integrate HR Systems: An Interview with MasterCard's SVP Lois Miller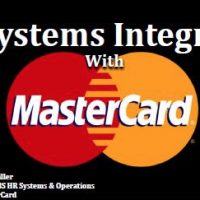 The call to be more efficient intensified after the onset of the great recession. Due to economic uncertainty and increasing competition the drive to streamline labor-intensive processes remains a top priority for many companies worldwide.
One of the key techniques HR uses to become efficient and effectively deliver solid service delivery value is to integrate HR systems into one solution. Let's face it…integrating HR systems is no less easy then cramming a handful of cooked spaghetti into one narrow container.
If HR Integration is not done right it can lead to complete disaster. If not carefully planned loss of money, time, resources, and functional credibility will certainly result.
So how do you successfully integrate HR systems?
For answers we can take a look at how MasterCard accomplished this daunted task. An interview with MasterCard's Senior Vice President of GBS HR Systems & Operations, Lois Miller provides some great insights.
My key takeaways of the interview include:
Building a persuasive business case for success
Don't underestimate the impact of the change on the end user and invest in change management
Specifically what HR processes and programs are enabled through technology, and
What HR metrics Mastercard uses to measure success
There are golden nuggets to pull from this interview. If you are facing an HR Integration project in your near future you'll not want to miss this interview with Lois Miller MasterCard's SVP GBS HR Systems & Operations.
You can access the entire interview for free here. 
If you'd like to hear more from Lois, she is also speaking at the 20th Annual HR Shared Services and Outsourcing Summit this October in Orlando, Florida.
Good luck with your integration efforts!
The following two tabs change content below.
Tresha D. Moreland, MBA, MS, FACHE, SPHR, SSBBP, founder of HR C-Suite, is an HR thought leader in Human Resource Strategic Management. She has held key human resource leadership roles for over 20 years in multiple industries most recently a senior vice president in the healthcare industry. Tresha is the founder and publisher of HR C-Suite (www.hrcsuite.com). HR C-Suite is a game changer results-based HR strategy website. It is a first-of-it's-kind site that organizes HR strategy based on desired business result. She has developed a business philosophy of integrating human resources with business strategy, thus creating a hybrid HR leadership approach. This approach enables the leveraging human resources to achieve business results.
Latest posts by Tresha Moreland (see all)
Donate To Help Others
Donate to Doctors Without Borders
Check This Offer Out