Workplace Innovation: How to Harness a Lightning Strike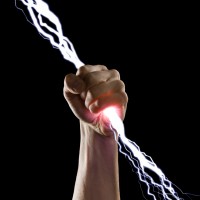 I used to be a General Manager at a restaurant at the beginning stages in my career.  I remember one busy day a thunderstorm came rolling in. Lightning started to flash and menacing rumbling sounds echoed across the sky. This is nothing new for the area and we went on about our daily business.
Suddenly an explosive sound shook up what would have seemed like a normal day. Picture frames on the walls shuddered. Silence fell over the lunch crowd. Busy workers stopped in silence with shocked expressions on their faces. All we could hear at that point was a static sound that replaced the normal voices expressing what they would like from the menu in the drive-thru system. I quickly ran up to the drive thru operator to see if she was okay. Styrofoam coffee cups surrounded her feet where she dropped them. Her eyes wide open.  She responded, "Yes I'm fine. But I think the drive-thru is broken."
That day, the drive-thru system took a direct hit from a lightning strike. The massive power of that lightning bolt destroyed every circuit board in the restaurant, rendering the grill, ovens, toasters and computers useless. It took at least two weeks for us to get completely back on line again for service.  The company eventually installed a lightning rod to deter future lightning strikes.
A popular myth is that lightning doesn't strike the same place twice. The same myth may linger about innovative ideas as well. Looking at Apple's new product launches over the years, innovative lightning most certainly can strike the same place more than once.
Here are ways to harness those great ideas:
Don't take small or parts of ideas for granted.  It wasn't Alexander Graham Bell who invented the telephone. He discovered how sound waves could be converted to electric current. It was Thomas Edison and Charles Batchelor who created the carbon button microphone.  But it was Theodore Vail, founder of the American Telephone & Telegraph Company, who was the eventual innovator of the telephone. That was then, just look at where we gone with smart phones and tablets today. Small ideas or parts of ideas can be the stepping stone to another greater idea. Learn how to leverage brainstorming sessions that build upon initial ideas or thoughts.
Provide resources, remove roadblocks, and get out of the way. Often I see the biggest deterrent to an innovative, much less an effective workplace, is its own leadership team. A blurry vision, micro-managing culture, divisive political posturing, decision-making paralysis, or a host of other leadership flaws can stifle the creative steam of an organization. An effective innovative leader will clearly and often communicate vision, provide resources, remove roadblocks, and then get out of the way.
Change the culture of "fear of failure" to one of "freedom to learn." Nothing stifles the imagination faster than being afraid to fail. The fear of failure may hold many back particularly in an economy of slow job growth let alone face possible ridicule in the workplace. If you want to encourage innovation, reverse that culture. Create a space where people feel safe in expressing and exchanging ideas.
Hire for innovative capabilities. How do you tell if your culture is not innovative? When the words, "We've always done it this way" become the rule and not the exception. Change the landscape. Hire people who have the capability of thinking outside the box, challenging the status quo and can brainstorm effective solutions with others.
Reward for innovation. If you pay people just to show up then getting anything beyond that will be difficult.  Review your compensation strategies. Reward and recognize those who come up with innovative strategies that work.  You will be surprised at how many more innovative ideas occur.
Innovative ideas contain the same powerful force that can ignite and rejuvenate an entire company. But that is if the innovative energy is harnessed.  Otherwise like random lightning bolts, great ideas can disappear as quickly as they appear. Don't let this happen to your company and like the late Steve Jobs, learn how to harness the power of innovative lightning strikes.
The following two tabs change content below.
Tresha D. Moreland, MBA, MS, FACHE, SPHR, SSBBP, founder of HR C-Suite, is an HR thought leader in Human Resource Strategic Management. She has held key human resource leadership roles for over 20 years in multiple industries most recently a senior vice president in the healthcare industry. Tresha is the founder and publisher of HR C-Suite (www.hrcsuite.com). HR C-Suite is a game changer results-based HR strategy website. It is a first-of-it's-kind site that organizes HR strategy based on desired business result. She has developed a business philosophy of integrating human resources with business strategy, thus creating a hybrid HR leadership approach. This approach enables the leveraging human resources to achieve business results.
Latest posts by Tresha Moreland (see all)
Donate To Help Others
Donate to Doctors Without Borders
Check This Offer Out