5 Steps For Creating a Process Infographic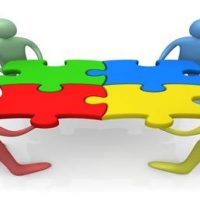 As an HR professional, you know how important it is to communicate information clearly to employees. Miscommunication can be a massive time waster and source of frustration in the workplace.
Two of the biggest sources of miscommunication in the workplace are poor communication between management and their teams and when team members make assumptions about processes or information.
Luckily, many HR professionals have found infographics to be an effective way of communicating processes. In fact, a study found that people retained 65% of information given to them if it was accompanied by relevant visuals, as opposed to the mere 10% that they retained if they hear information.
So how do you create an engaging process infographics? Let's break it down into 5 easy to follow steps.
Organize your information.
Before you even begin to design your infographic, you need to figure out how you will organize your information so that it is easy to follow.
If you're creating your infographic from an existing document, the process might already be divided into steps. In this case, all you would need to do is potentially condense the text, since effective infographics are generally not text-heavy.
If the process hasn't been broken up into steps, however, you will need to do that first.
Quick tip: try to think from the perspective of someone who is new to this process. What do they need to know first? What questions will they likely have along the way? What visuals would best complement the information?
Pick the right template.
Once you've got your text figured out, it's time to choose a template that will best communicate your process. A quick search will yield many sites that will let you create infographics for free.
Process infographics generally follow a linear structure, with the first step at the top and then each step descending in order. Steps are generally either numbered, titled, and may even be divided into color blocked sections.
For example, take this infographic from Recruiterbox (full infographic). Each step is numbered and give a short title. What's more, each step is given a different color--this makes each step easier to read and digest.
Another effective layout to illustrate processes is to use a flowchart. Flowcharts connect each step together, making it easier for readers to visualize the progression of steps in their heads.
Take this infographic (full infographic), which uses a roadmap motif to show the different stages in the onboarding process.
Quick tip: pick a thematic motif that will tie your steps together and make them more memorable.
Create an outline.
Before you dive right in, it's a good idea to draw up an outline for your infographic. After all, it's seriously frustrating to spend time working on a design, only to realize that the information doesn't fit.
Creating a rough drawing of your infographic on a piece of paper will offer you guidance during the design process. 
Map out an introduction, the major points, and the conclusion of your infographic. Decide what visuals you want to use--where you will place charts, pictograms, or images.
Quick tip: see if you can find a way to fit all of the information on one page.
Create your infographic.
This is the fun part! Create your infographic. Even if you're using a template, you will probably want to personalize your design.
Some things to consider when creating your infographic:
Color scheme: What is the tone you are trying to convey? Is it corporate and professional? If so, then a neutral background with corporate blue or red accents is a safe bet. Is it lighthearted and fun? Then you can throw in some yellow or orange.
Font: The text should be easy to read, above all else. I recommend Sans Serif fonts.
Image style: Are you using only illustrations? Black and white photos? Whatever style you choose for your images, the style should be consistent throughout your infographic, and the images should be high quality (not blurry!).
Branding: Do you want to include your brand's logo? Are there specific design style guides you need to follow?
Quick tip: don't clutter your infographic with too many decorative design elements. When in doubt, keep it simple.
Get feedback from someone else.
Never underestimate the value of a second set of eyes. When it comes to documents detailing processes, making sure that your information is clear and logical is particularly important.
Have someone else read through your infographic so that they can identify any errors and any parts that aren't clear or that may need more information.
Quick tip: check for text surface errors like spelling and punctuation, and design surface errors like misaligned elements.
Here is an infographic breaking down these steps. 
The following two tabs change content below.
Sara McGuire is a Content Editor at
Venngage
, a free and easy to use infographic maker. In her free time she enjoys reading graphic novels, poetry, and reviewing music.
Latest posts by Sara McGuire (see all)
Donate To Help Others
Donate to Doctors Without Borders
Check This Offer Out