5 Crucial Strategies to Improve Employee Productivity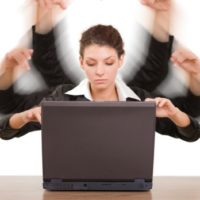 Your employees are the powerhouse of your company, and the growth of your business depends on their skills, effort, and commitment. Think of your employees as the cogs and gears of a big machine that's your company. For every cog that's working in its optimum condition, the machine performs at its best.
But, are your employees maximizing the time they spend in the workplace to be productive? Studies show that a third of employees spend up to 3 hours a day on non-work-related tasks such as browsing websites, online shopping, checking their social media, paying bills, and chatting with co-workers.
For the 8 hours that your employee spends in the office, only 6 hours are spent working on their tasks and responsibilities for work. Distractions such as mobile phones, social media, internet, and even office gossip contribute to non-productivity.
Some companies ban the use of mobile devices in the workplace unless necessary, and some block social media sites from being accessed on work computers to prevent workers from becoming distracted. However, eliminating distractions may be a band-aid solution. Banning mobile phones in the office may even be counterproductive.
Such solutions may make your employees think and feel that you're micromanaging them, and may hinder employee satisfaction and result in more problems than positive results. This is why we've gathered the top strategies that ensure employee productivity in the workplace.
1.     Developing Leadership
According to research conducted by the Workforce Analytics Institute (WAI) in October 2016, developing leadership is one of the key drivers of productivity in the workplace.
Productivity programs and interventions only work when employees at all levels understand the need for them. Hence, it's imperative to invest in leadership programs so that team leaders and supervisors can manage the productivity process accordingly.
Furthermore, when leaders properly communicate productivity interventions to their team, lower-level employees understand the results expected from them. As a result, they comprehend the importance of their productivity to company growth and excellence.
2.     Enhancing Employee Engagement
Engaged employees are committed to the long-term goals of the company. They are willing to invest extra time and exert more effort and initiative than disengaged employees. On the other hand, those who are disenfranchised from the organization will still do their daily tasks, but no more than that.
Burnout is enviable, and your company faces the risk of high turnover and attrition. Employee engagement drives workers to do their best and contribute to the success of the organization, so much, so that employee engagement remains a top priority for businesses.
Strategies that promote employee engagement include open communication between management and lower level employees, opportunities for growth and skill development, focus on self-care and autonomy, and a healthy and dynamic work culture that fosters positive morale.
3.     Leveraging Technology
Technology can help employees get more work done in less time. Businesses are constantly looking for innovations in technology to help increase efficiency and productivity. By automating repetitive tasks, your employees can focus on more meaningful work that provides greater organizational value.
In addition, the rising trend of remote workers has increased the demand for data accessibility software, as well as collaboration tools and workspaces that enable workers to access data and workflows anytime and anywhere.
In this day and age, people are less tolerant of machines and computers that don't perform as quickly and efficiently as they should. Provide your employees hardware and software that can help them focus on their tasks.
4.     Designing Incentive Programs
Incentivizing performance gives employees motivation to work harder and perform better. Incentives let workers know that their employer values the hard work they put in each day. Their efforts are recognized and rewarded. When you offer incentives, employees are given something extra to work for, and it helps them stay engaged for a longer period.
Align incentive schemes to what your employees want. Is it an additional day off or a work-from-home benefit? Are your employees interested in travel vouchers or cash?
Take some time to determine what your employees want. This can be done through a survey or a review of previous incentive programs that your company launched in the past.
5.     Providing Constructive and Meaningful Feedback
Providing constructive feedback to encourage employees to do better is a cornerstone of effective leadership and management. By letting employees know what you think about their performance, you not only motivate them, but you also open channels of communication.
When providing feedback, be specific. Let your employees know where their strengths lie and the areas where they need improvement. In turn, you can ask them what assistance they need to help them be more efficient and productive. With open communication, feedback goes both ways.
Increased productivity benefits all employees and departments across an organization. Productivity growth leads to lower costs for the company while increasing growth and revenue. As a result, higher wages and better benefits can be allocated to employees, quality of products and services increases, and the company increases its competitive advantage.
At the end of the day, happy and engaged employees work harder, better, and smarter. Treat your employees with respect and let them know how much you value their work. Sometimes, a simple "thank you" would do.
The following two tabs change content below.
Tresha D. Moreland, MBA, MS, FACHE, SPHR, SSBBP, founder of HR C-Suite, is an HR thought leader in Human Resource Strategic Management. She has held key human resource leadership roles for over 20 years in multiple industries most recently a senior vice president in the healthcare industry. Tresha is the founder and publisher of HR C-Suite (www.hrcsuite.com). HR C-Suite is a game changer results-based HR strategy website. It is a first-of-it's-kind site that organizes HR strategy based on desired business result. She has developed a business philosophy of integrating human resources with business strategy, thus creating a hybrid HR leadership approach. This approach enables the leveraging human resources to achieve business results.
Latest posts by Tresha Moreland (see all)
Donate To Help Others
Donate to Doctors Without Borders
Check This Offer Out