5 Unique Challenges HR Professionals Face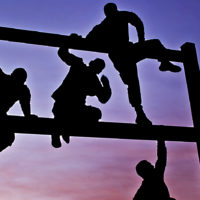 The current HR industry remains a mystery to many in a world where technology and communication continue to change rapidly. You might see an HR professional at your first interview or review, but what else are they responsible for?
Put simply, HR professionals search and recruit candidates. They also guide growth and create sustainable business policies. The HR department is a bridge that connects you to your employer.
Working in HR has its own set of unique challenges and opportunities. As a professional, you need to understand workplace culture, handle sensitive situations and switch between an administration and face-to-face role effortlessly.
Learn more about just five of the unique challenges that this industry presents!
Creating A Positive Workplace Culture
Impacting a workplace culture is no small task. Many HR professionals spend a long time designing systems that encourage friendly, genuine collaboration. This could be an incentive program or candidate criteria to ensure every new hire is the right fit.
There is a reason your professional team is so well-suited. While workplace culture grows organically, it is up to the HR department to complete the groundwork. Finding professionals who are like-minded and enthusiastic encourages a happy environment.
It is a key challenge for every professional to source and hire an employee who will benefit the business while creating a culture that can also attract the best talent.
Handle Angry Outbursts From Everyone
Healthy workplace culture is a very particular balance of 'give and take.' HR professionals must deal with a broad range of disputes every day. Most of these will have an impact on the internal or external face of the business.
Often, one solution will leave a party happy and the other completely unsatisfied. You really can't please everyone! It is up to HR to achieve a fair compromise, so an intuitive ability to think outside of the box is a must.
While the right steps can seem obvious on the pages of a textbook, improvisation will help you to deal with unique scenarios.
Drive & Manage Career Progression
A regular employee is concerned with their career progress and training. For HR? You need to manage your own ambitions with the goals of others. HR professionals must plan on-the-job training, internal workshops and adult education courses that best suit the individual.
With the average HR-to-employee ratio is around 1 to 100, it's no wonder balancing job needs is such a tricky task. In order for professionals to stay ahead (and make sure everyone else is as well), they will need to pay a meticulous attention to detail.
Enrolling in an adult learning course, specifically for full-time professionals, is a method often employed by HR for other business employees, but what about for yourself? It's important to always take a step back and maintain your work/life balance.
Be A Student and a Teacher
Whether you have recently studied a diploma of HR or graduated from your degree many years ago, undertaking a form of study creates a great platform to grow as a student and a teacher. Many young professionals don't realise that the HR industry must be flexible in order to help the business and an employee.
Professionals must lead and be led, as they wear many different hats. You will need to find a way to achieve what seems like the impossible. Whether you are offering advice on legal issues, leading an employee talent program or acting as a mediator in a conflict.
An open mind is no short order but fundamental in building trust between an organisation and its collective workforce.
Stop the Best Talent From Leaving
Well done! You've scored the best candidate. They finished the interview with top marks. You've made the ideal hire. Now, what? You organise the perfect induction training to ensure that skill gaps are bridged immediately.
That's only the very beginning of the work of HR. Professionals are with you from the start of your career until the very end. In a time where job-hopping has become the norm, keeping the best talent from moving on is difficult.
If an employee decides they want a pay rise and their performance is valuable to the business, you will need to find a way to solve this demand. Retaining great talent is a fundamental role within the HR industry. It requires an in-depth understanding of personal ambition - this is just the tip of the iceberg.
A complex ecosystem of healthy workplace culture, great employee relationships, room to grow and excel, and an accessible support system is what will keep every employee at their desk smiling.
The following two tabs change content below.

Helen Sabell is CEO and Principal of The College for Adult Learning. She is passionate about adult and lifelong learning. Helen established The College for Adult Learning for mature, work-experienced learners and mid-career professionals seeking professional development options and work ready qualifications, which are relevant, adaptable and flexible. Connect with Helen on LinkedIn, Google+, and Twitter.

Latest posts by Helen Sabell (see all)
Donate To Help Others
Donate to Doctors Without Borders
Check This Offer Out