7 Essential Tips Every Business Should Know To Retain Generation Z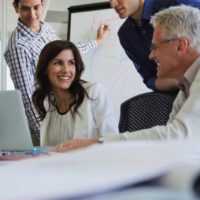 Generation Z refers to the group of people born between the mid to late 1990s and the 2010s. They are typically a generation that relies heavily on the use of digital technology as well as social media communication. If we are to hire and retain them, then we must engage them on their own terms.
Seeing as how they are likely to make up about 20 percent of the workforce, employers are going to have to cater to their needs as the former do not like being told what to do, how to behave and so on. So if you want to be on their good side to acquire their skills, here's what you should do.
Make A Group Of Professionals
You need to engage and empower workers of the new generation so that they can become future leaders and one of the best ways to do that is by starting an employee group for Gen Z. It will provide them with personal and professional development opportunities.
You must also encourage civic involvement and networking.
Welcome Social Recruitment
If recruiting Gen Z means that you have to stoop to their level, then so be it. You have to be disruptive, as in become digitally active on all the popular social networking platforms, build your brand and gain credibility so that your organization becomes more visible to them.
Don't think that it's all set in stone after you join a platform. You also have to nurture the relationships that you develop with your followers both in internal and external talent pools. Because this group loves to be visually impressed, you can best catch their attention with short but impactful images and videos.
Be Prepared To Talk Money With Them
Many members of Gen Z came from a period of Great Recession, so they have seen how a weak economy can impact finances in the short and long-run. Therefore, they are well-aware about making enough money to help them cover their immediate and long-standing expenses, such as student loans.
So you as the recruiter, need to offer a competitive salary and benefits package to attract and hire top talent, especially since the employment market continues to favor job seekers.
Provide The Latest Technology
Gen Z is all about getting into the latest trends in technology. They grew up in the decade of desktops, laptops, smartphones, smartwatches, iPods and more. Hence, you will have to invest in the newest and best of devices and tools that will engage them so they can become successful.
Provide Flexible Hours And Remote Connectivity 
The digital age is something that we all must embrace since it is necessary for businesses to keep evolving. So you and your organization have to embrace this culture with open arms and invite remote communications at meetings. To be frank, you must look towards video conferencing and online meetings.
Offer To Coach And Mentor
The new generation expects your company to offer formal coaching and mentoring programs. It is due to the lack of interpersonal skills and communication. Members of the Gen Z group are so accustomed to communicating through the use of technology that many of them need a couple of tips on how to have an effective one-on-one conversation.
7. Invite Collaboration
Just to remind our readers, Gen Z employees don't like being told what to do and how to behave. Hence, they do not approve of hierarchies. They would rather be actively involved in the decision-making process and collaborate on important projects than just sit aside doing menial tasks.
If managed well, generation Z can be beneficial as agile businesses need cross-team and cross-departmental working.
The following two tabs change content below.
Tresha D. Moreland, MBA, MS, FACHE, SPHR, SSBBP, founder of HR C-Suite, is an HR thought leader in Human Resource Strategic Management. She has held key human resource leadership roles for over 20 years in multiple industries most recently a senior vice president in the healthcare industry. Tresha is the founder and publisher of HR C-Suite (www.hrcsuite.com). HR C-Suite is a game changer results-based HR strategy website. It is a first-of-it's-kind site that organizes HR strategy based on desired business result. She has developed a business philosophy of integrating human resources with business strategy, thus creating a hybrid HR leadership approach. This approach enables the leveraging human resources to achieve business results.
Latest posts by Tresha Moreland (see all)
Donate To Help Others
Donate to Doctors Without Borders
Check This Offer Out