What Will Be The Future Of Work?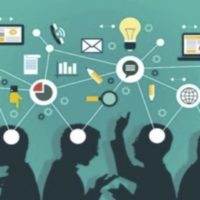 Due to the drastic changes taking place over the past few years, we can predict what work's going to be like in the near future.
Change and evolution is the new norm of working, so we need to accept it and work accordingly if we want to get successful in the workplace of tomorrow. The way we work today will be changed in the future. Globally, experts predict that the workplaces will become more flexible and cooperative. The majority of the people will work remotely on freelance basis for multiple companies and will be paid on the basis of their work rather than people going to offices daily and working 38 hours per week. Faith Popcorn, US futurist and founder of marketing consulting firm in a presentation on 'The Future of Work' says that 33 percent Americans are freelancers today and he predicts that till 2020 this will rise up to 50 percent.
According to 'Future Inc', utilizing two things will be very much important for the business success; i.e. diversity and global mobility. People will need to be ready and willing to accept the changes, adapt them and learn new abilities. Fiona agrees with it and says that if people want to be successful in their life, they need to do rapid changes in partnerships instead of dictating change to others. These changes affect all of us, so we need to champion it.
Our future workplace would be more likely interconnected and the days of our work will be quite different. If you have to stay at home, it would be more proficient way to work facilitated by the technology.
There are many factors leading to this change in work we're discussing about. Change in technology, change in education, change in roles and behaviors, change in thinking, all are causing the time to alter and also the methodology of working system.
Role of technology in changing our work system: Technology, in future, will be inserted into just about everything we do. The whole world will be connected with the internet. According to Janna Quitney Anderson, a communication professor at Elon University, smarter bots, sensors, embedded systems, and other connectivity systems will take over almost all of our work and even our personal work over the next decade. Robots and computer systems will have a more dramatic effect on workplace than the internet.
We can notice all the changes brought by technology in our present as well. We have got different kinds of machines and software that assist us in almost everything we do. Our work, actions and behaviors are not traditional anymore. We always think of making our tasks easier and easier day by day. And this thought has compelled people to make new discoveries and inventions in order to make our lives easier.
So we can better predict that in the near future, these machines and software we are using nowadays will be totally transformed into something better and innovative.
Wearable will change behaviors: Wearable will be present everywhere. It will gather data about us and provide information to us as we move throughout the day. Our watch or glasses will help improve the productivity. According to an estimate, 65 percent children who are going for primary schooling today will work in such roles which don't exist currently but will be part of our future.
Even in the present time, these kinds of watches have been made available with a complete mobile software, all those applications that are used in the mobile phone are there in a watch. So this kind of change will definitely change the minds of the children and the people using such technology. They will go for easier and stylish ways to do things.
Automation: Automation, digital platforms, and other variations are changing the basic nature of work. If policy makers, business leaders, and workers understand these shifts, it can help them move forward. But as great as they look, they are also disastrous. It will completely render the professions, even though they increase the productivity.
Machines are making us useless day by day. They are making us not to be creative and thoughtful anymore. A lot of work which includes personal interaction would not be affected by the automation. Automation is primarily the replacement of capital for labor. The issue is that the people who already have the capital will benefit the most because they are the ones who will invest in the new automation. In other words, the rich will become richer, and the remaining people will suffer due to it.
The technology is going to establish and encompass ever more human activities in the recent decades. Yet machines cannot do everything which humans do. This automation age will need diverse human skills in the workplace, from technological abilities to fundamental, social and emotional competencies.
You don't know whether the qualities or potential you have today will work out in next 20 years or not. This is because of the rapid changes around us. So our kids need to know how should they learn, accept, adapt and become flexible. People need to prepare themselves for the changes and to work accordingly.
Nature of jobs will change:
The nature of jobs will change with time, and will increase. So the people nowadays must have such knowledge so they might be eligible for such jobs. Time is changing drastically so one must be flexible enough to adapt to those changes and perform in accordance with the changing time. This is the biggest challenge though.
So in short, we can say that the future of our work will be all digital, and will be taken over by technology. We will be utilizing technological advancement for our benefits, although seeing from the other side, it has many harmful effects as well on us. Our each and every work, whether big or small, difficult or easy, will be governed by technology. The most challenging thought is that we, being humans, should take help of this technology, but should not let it take over us. It should not affect our thinking, and behaviors.
The following two tabs change content below.
The author of this post, Nancy Smith, is a graduate in Information Technology and works in a software house. She frequently contributes to the blog at
Dissertation Store UK
.
Latest posts by Nancy Smith (see all)
Donate To Help Others
Donate to Doctors Without Borders
Check This Offer Out