FREE: 5 Hot HR Strategy Trends 2016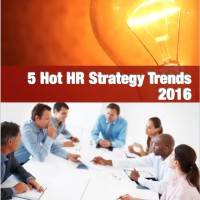 Our special gift to you!



Our popular special report, "5 Hot HR Strategy Trends for 2016" is here!
Download this FREE special report today! Learn what hot HR strategy trends can impact your workplace.
Find out what can turn your workplace effectiveness efforts on its ear.
See how you can leverage driving change to create a competitive and successful workplace through your workforce.
Don't fall behind! See what disruptive forces can make or break your business.
Fill out the short form below and this special report will be delivered instantly to your email box. You will also begin receiving free thought articles and updates from HR C-Suite.
The following two tabs change content below.
Tresha D. Moreland, MBA, MS, FACHE, SPHR, SSBBP, founder of HR C-Suite, is an HR thought leader in Human Resource Strategic Management. She has held key human resource leadership roles for over 20 years in multiple industries most recently a senior vice president in the healthcare industry. Tresha is the founder and publisher of HR C-Suite (www.hrcsuite.com). HR C-Suite is a game changer results-based HR strategy website. It is a first-of-it's-kind site that organizes HR strategy based on desired business result. She has developed a business philosophy of integrating human resources with business strategy, thus creating a hybrid HR leadership approach. This approach enables the leveraging human resources to achieve business results.
Latest posts by Tresha Moreland (see all)
Donate To Help Others
Donate to Doctors Without Borders
Check This Offer Out