How to Use Social Media to Help You Find Your Next Job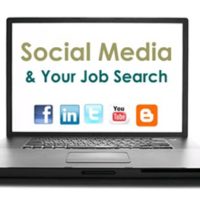 Social media isn't just a tool for stalking your friends, sharing your special moments and taking a quiz to find out which pizza best represents your personality. In fact, it's quickly becoming the leading and most popular tool when it comes to finding your next dream job, or any job for that matter! By harnessing a few quick yet effective tips, you can enhance and revolutionise your social media profiles, transforming them into the perfect weapon for the battleground that is the job-seeking world.
Redefining Your Profiles
Each social media platform has different benefits. Today, we'll explore three of the biggest and most effective; Facebook, Twitter and LinkedIn. Each one has a range of different approaches you can take that will enable you to look your best when it comes to applying for your next vacancy.
Facebook
According to The Guardian, Facebook had over 1.59 billion active profiles. That number is only ever-increasing, so the chances are that your employer is one of them. Fortunately, there are several ways you can use this to your advantage. It's common knowledge nowadays that an employer will check over a potential candidates Facebook profile before inviting them for an interview, so they don't want to see photos of you taking drugs over the weekend while berating your previous employer and your colleagues.
Instead, create a secondary account for your professional work and then make your personal profile private and keep them separate. What you do in your own time is up to you, and you may have years of photos that could compromise your position. On your professional profile, you can post, share and follow relevant pages in your industry as well as uploading some of your own work as a portfolio. For example, if you're a graphic designer, get creative with your profile header and picture to show off your skills, like these.
Twitter
Twitter is a little different to Facebook. Go through your profile and update it, so it reflects who you are now. Change your picture to a professional image, update your biography and you'll also find a place to connect your LinkedIn account as well as your CV or resume. You'll also get the chance to follow relevant industry pages where you can then share they content to stay up to date with the latest trends.
LinkedIn
Renowned for being the Facebook of the professional work, if you don't have already have a LinkedIn profile, now is the time to set one up. In addition to having the ability to upload, in full detail, your CV or resume and list off, in detail, you work history and achievements; you'll also have the opportunity to receive Endorsements. This essential feature allows people you have worked with in the past to endorse your and work, kind of like a recommendation. If a potential employer can see these, your chances of securing a job skyrocket.
Utilising your Social Media Profiles to Their Full Potential
These aren't the only ways you can improve your job search sessions. Through social media, you'll also get the chance to 'spy' on the potential companies that you are applying to. Not only will this give you an in-depth insight into the company and how it operates, but you'll also gain a deeper understanding of the culture of the company.
This means you'll be able to see what drives the company forward, what priorities they have and what language they use. You can then match and adapt your skills to meet these criteria which you can then show off in your interview, further your chances of securing the role.
Furthermore, you'll also be able to broaden your network. According to Monster, many companies are looking to see whether their potential future employees are dedicated to their industry. For example, if you're a marketing expert and you're blogging about the industry and keeping up to date with the latest trends in your own time, the chances of you securing a role is obviously much higher.
Final Thoughts
When updating your social media profiles to give yourself the best chance at securing a job, think of yourself as a business. After all, if employed, you'll be providing the company with a service that you'll be paid for. With this in mind, consider yourself a brand, and your social media profiles are your services websites. You'll then be able to effectively market yourself to these companies, giving them something that draws them in to think 'yes, this is the person we want working for us!'
Ensure that you get involved in the industry and dedicate yourself to being the best you can be, all the proof of which will be evident on your social media profiles, giving you the best chance at achieving that all-important interview.
The following two tabs change content below.
Rachel Summers is a freelance writer whose passion is helping students get the most out of their learning journey. She started out as a writer and journalist in the newspaper industry, including
Top Canadian Writers
, before breaking out to go freelance and follow her own passions. Her writing is designed to help you get the most out of college.
Latest posts by Rachel Summers (see all)
Donate To Help Others
Donate to Doctors Without Borders
Check This Offer Out