5 Energizing HR Strategies for the Healthcare Industry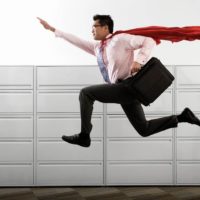 During times of uncertainty, it's tempting to just put our heads down and focus on slashing costs via downsizing and restructuring. However, not one organization has ever shrunk itself to excellence.
While there's no one single answer for the complex challenges facing the healthcare industry, strategic HR can be an important bridge to a brighter future for organizations, caregivers and patients.
But how?
Here are 10 ways HR can energize the healthcare industry
1) Manage energy, not engagement
Where you find energy, sustainable engagement is soon to follow. Change fatigue has undoubtedly settled in for many healthcare organizations. The Affordable Care Act was signed into law in 2010. Transformation for the healthcare industry has skyrocketed and has not come down for a landing ever since.
A rapid pace of cost cutting measures, restructures, mergers, technology revolutions, overtook the industry by storm. The intense pace of change on top of existing challenges of talent shortages, outdated practices, and short staffed departments has driven the term "weary" to new heights. When we are low on energy, we lose our ability to focus, make effective decisions and take action.
2) Deliver experiences, not tactics
Become a "design" thinker. Take a step back and reconsider long-standing practices, processes and tactics. Turn them upside down and start with the candidate, caregiver or patient experience.
Do you wonder why turnover is so high? Put yourself in your caregiver's shoes. Do you wonder why your organization is not attracting top talent? Apply for jobs at your organization and see how easy it is to learn about new opportunities. Feel brave? Go ahead and go through your own organization's onboarding process again with an open mind.
3) Put conversations over surveys
It's Bill Gates who said, "We all need people who will give us feedback. That's how we improve." We are in an interesting era of social media. Caregivers prefer to take to social media about their experience in the workplace, than answer honestly in an exit interview or engagement survey. Granted social media provides a comfortable place for trolling.
But the truth comes out when having comfortable conversations versus formal surveys. Focus group conversations, face-to-face meaningful discussions will put us on the track of true transformation.
4) What about the sticks? It's not just about the carrots
In a desperate move to attract and retain talent organizations are through money hand over fist at the problem. Sign on bonuses, retention bonuses, loan forgiveness, paid sabbaticals, paid summer programs, differentials, and the list goes on. But what about the organizational sticks that drive staff away?
Sticks comprise of interferences such as bullies, poor manager experiences, toxic behaviors, and political gaming at the expense of others. Put a stop to those sticks and create an environment where high performers can thrive.
5) Change the culture of "fear of failure" to one of "freedom to learn"
Brene Brown said, "There is no innovation and creative without failure. Period." Nothing stifles the imagination faster than being afraid to fail. The fear of failure holds people back when they see mistakes are being held against them or their co-workers. Create a space where people safe in expressing opinion and exchanging ideas.
If you feel creating a safe space to express opinions is unnecessary re-read number 3 again. Caregivers will express their opinions internally or externally. The choice is yours.
If you feel your healthcare organization is low on energy the good news is you can do something about it. Every action, word or deed matters and can impact productivity during times of uncertainty.
The following two tabs change content below.
Tresha D. Moreland, MBA, MS, FACHE, SPHR, SSBBP, founder of HR C-Suite, is an HR thought leader in Human Resource Strategic Management. She has held key human resource leadership roles for over 20 years in multiple industries most recently a senior vice president in the healthcare industry. Tresha is the founder and publisher of HR C-Suite (www.hrcsuite.com). HR C-Suite is a game changer results-based HR strategy website. It is a first-of-it's-kind site that organizes HR strategy based on desired business result. She has developed a business philosophy of integrating human resources with business strategy, thus creating a hybrid HR leadership approach. This approach enables the leveraging human resources to achieve business results.
Latest posts by Tresha Moreland (see all)
Donate To Help Others
Donate to Doctors Without Borders
Check This Offer Out