5 Keys to Successful Hiring Through an Employee Referral Program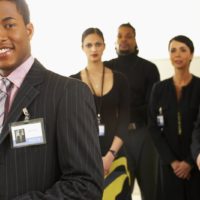 Hiring the right employees is one of the most important aspects of any successful business. It is for this reason that many companies are opting to use employee referral programs for their hiring needs. There are several keys to successful hiring through an employee referral program, and we will take a look at the top 5.
Spread the Word
In order for a referral program to be a success, employees need to know that there is a referral program in place. Ensuring that every employee knows the steps required to refer an applicant will increase the number of potential candidates, and in turn, this can help to ensure that the applicant pool is adequate for the number of open positions. Posting information around the workplace, such as posters and signage, so that workers are continually exposed to the concept will go a long way in instilling the process into the culture.
Define Incentives
Offering incentives and rewards to those employees who are successful in referring candidates is vital in keeping employees enthusiastic about the program. When implementing an employee referral program consider offering rewards for every referral that comes in. Furthermore, it can be necessary to increase the incentive for filling positions where finding the right candidate can be more difficult. When it comes to giving out the reward, set a date or define a specific timeframe in which the referring employee can expect to be rewarded for their effort.
Standardize the Process
Incentives or not, employees will be less apt to spread the word to potential candidates if the process for referring those candidates is confusing or continually changing. One way that a company can guarantee that no opportunities for a referral are missed is by standardizing the process. When putting a referral program in place, make sure that the forms that are required for the referral are easy to navigate and follow a similar format for each position, as this will help employees become comfortable with the process.
Properly Train Staff
Perhaps the best way to ensure that all employees are on the same page during the referral process is to go through each step with them so that they can learn the formalities. This can be accomplished by setting up a training program where the details of the program can be discussed. These training sessions will also provide a chance for the employees to ask questions regarding the steps involved in the process and to discuss the rewards that will be given.
Delay Rewards
If there is a reward for every referral, regardless of the outcome, then employees may try to take advantage of the system by referring candidates without much thought as to whether the candidate is right for the company. To counter this effect, implement a probationary period in which the referred employee will be monitored to ensure that they will meet the requirements of the position. Once the applicant has proven that they are a fit for the position, then the incentives can be doled out.
As it has been shown, there is an array of steps to take into consideration when starting an employee referral program. It is important to make sure that the steps required of employees to submit a referral are standardized and easy to complete. Furthermore, offering incentives based on the quality of the referral and the position that the applicant is filling, can help ensure that only the top candidates are considered. Keep these tips in mind when implementing an employee referral program and it is sure to be a success.
The following two tabs change content below.
Tresha D. Moreland, MBA, MS, FACHE, SPHR, SSBBP, founder of HR C-Suite, is an HR thought leader in Human Resource Strategic Management. She has held key human resource leadership roles for over 20 years in multiple industries most recently a senior vice president in the healthcare industry. Tresha is the founder and publisher of HR C-Suite (www.hrcsuite.com). HR C-Suite is a game changer results-based HR strategy website. It is a first-of-it's-kind site that organizes HR strategy based on desired business result. She has developed a business philosophy of integrating human resources with business strategy, thus creating a hybrid HR leadership approach. This approach enables the leveraging human resources to achieve business results.
Latest posts by Tresha Moreland (see all)
Donate To Help Others
Donate to Doctors Without Borders
Check This Offer Out