Employee Engagement in a Time of 9.2%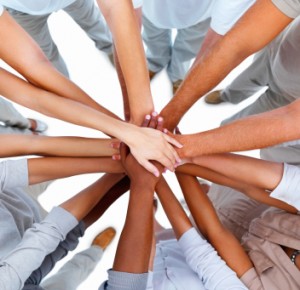 For around 15 years, employers (at least the ones who were awake) have been caught up in the chase for high employee engagement.  Those were the days when unemployment lounged around the 4% neighborhood.  And, let's face it, employee engagement was mostly about the competition for great candidates – or sometimes any candidate – to fill a job req.  And then keep those cheeks in seats, rather than lose them to market competition.
Those times are gone.  Hiring has plummeted. Great talent has gone begging.  And I've been hearing what I had hoped I'd never hear again:  "They should just be glad they have a job." (Uhm, the 1970s called; they want their BeeGees back.) So why should employers invest in the inquiry as to whether employees are engaged?  Money's tight, can't it be better used elsewhere?
Employee engagement is as urgently relevant as ever. Just for different reasons. And so it's time we revisited the question of what kind of value the pursuit for high engagement scores has for companies.
The discipline of engagement forces companies to articulate what experience they want to offer all stakeholders – both internally and externally.  The properly launched engagement process (starting with the creation of the survey questions and continuing on through all the ensuing communications and training initiatives) is the opportunity for companies to answer the question: Who are we and how do we want to rise above the competition through differentiation?  As a community of associates (both employees and customers), the more tightly integrated the cultural experience is of your company,  the greater the service experience is,  the more successful you will be.
Engaged employees continue to contribute to your company's capacity to innovate. Barbara Fredrickson has done some fascinating research around "happy" employees' ability to "broaden and build" their options when approaching challenging conditions. Assuming that engaged employees are happy (in my definition of both "engaged" and "happy," they are), you are going to have a company of creative problem-solvers who will help move your enterprise forward in an uncertain future.  According to a recent poll conducted by HR C Suite, innovation is among the most important considerations for HR leaders. So it could be that cultivating a culture of engagement could be the most valuable contribution coming out of the HR department!
Engaged employees don't need fun and games to stay excited about their company. Nor do they need to have a "best friend at work," a standard survey question that has always struck me as unbusinesslike and juvenile. Sure, off-hours hijinx are fun and bonding. And a congenial, spontaneous culture (like Zappos) can be extraordinarily successful.  However, not every company has to be a Zappos – that would be inauthentic. But there's one thing that Zappos has that every company can benefit from:  a clear customer-service ethic that has an unmistakable corollary in the way the employees are treated.  That, in turn, shows up in record sales with happy, returning customers. Foosball won't do that for you.
Engaged employees can help keep your free enterprise free.  Employers who are paying attention know that unions, with the help of the NLRB, are stacking the power deck in their favor. Employers unaccustomed to dealing with the prospects of being organized are so intimidated by the exotic world of ferocious organizing campaigns that they are more likely to do the disengaging thing of clamming up or clamping down on employees. Engaged employees, on the other hand, are in partnership with their employer. In an engaged environment, they trust their employers to do the right thing by them.  So you make your company union-irrelevant as your people say, "talk to the hand" any time an eager, buttoneering, sloganeering stranger steps into their path or interrupts their lunch.
Engaged employees infuse your workplace with positivity and high performance. After the surveys are tabulated, and if you know who your engaged, high-performers are, recruit them to be evangelists for your company's critical objectives.  Let them be the voice of high performance and workplace excellence.  They know much more about what it takes to achieve your company's goals from within because they are from within.  Their influence on the culture itself is much more effective throughout the organization and in an ongoing way than any message from the C Suite could ever be.
Engaged employees will keep your workplace culture focused on shared goals, not turf battles.  Employees who love their work, trust their managers,  and like and trust their coworkers have more important things to do than engage in petty power struggles.  The vitality of your business is supremely important to them. Not because it's their job but because they see how important your organization is to them and their customers.  Working for you speaks to their own sense of purpose and self-actualization in some way. And they're not going to put all that at risk for any kind of incidental issue with an esteemed colleague.  There are just plain too many more important things to do. Together.
Employee engagement continues to be associated with other high-performance markers.  Companies with high engagement scores still out-perform their competition in the stock market.  Engaged employees attract equally desirable candidates (for those times when you are hiring).  Even manufacturing companies are finding a relationship between highly engaged employees and low injury rates.
So you may (or may not) be so interested in attracting and keeping new talent these days.  That doesn't mean employee engagement is less valuable to your enterprise.  In fact, it might be even more essential to helping you reach your objectives.
Why? In short: Engaged employees will help you stay focused on what's important.
Editor's note: HR C-Suite was given special permission by author Martha Finney to reproduce this article. The original location can be found at www.careerlandscapes.com.
The following two tabs change content below.
Martha I. Finney is the author of The Truth About Getting the Best From People, and a consultant specializing in employee engagement. For a free consultation on how you can build a vacation-friendly workplace culture, email Martha at Martha@marthafinney.com.
Latest posts by Martha Finney (see all)
Donate To Help Others
Donate to Doctors Without Borders
Check This Offer Out