Latest Workplace Trend: Create an environment Where People are Emotionally Connected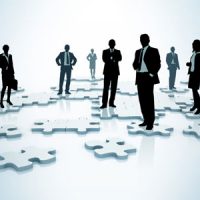 Latest workplace trend: Create an environment where people are emotionally connected
What do people need to be productive at the workplace? Contrary to popular belief, people don't stay in a company because they are well–compensated. Some people don't care so much about financial incentives. Rather than work for 10 hours a day and get a salary that's above the average pay rate, it's a lot more rewarding to earn less but enjoy the process. Comfortable, cooperative, and relaxing work places have started to gain recognition. Many people just want to feel appreciated. They want to feel part of a team, and not be screamed at all day long.
The latest workplace trend is all about comfort and teamwork. If you can offer that to your employees, they won't leave after the first year. Think about them as human beings and they'll do their jobs with a lot more enthusiasm and drive.
Redefine the workspace
Have you ever thought of redefining the workspace? It's no secret that employees hate the CUBICLE. Nobody likes working in isolation. The mere idea of being stuck to a desk for more than 8 hours a day drives people insane. Consider taring walls down. The open-space office is the newest trend. It is an opportunity for employees to connect with each other, socialize, and share new ideas.
Personalize the break room
If your business office doesn't already have a break room, you should make one right away. Employees need to relax. They need some time between working hours to unwind, loosen up, and recharge their batteries. Craft them the most soothing breakroom. Make sure it's somewhere separate from their desks. You might consider a terrace or a nicely-decorated room with a couch, comfy chairs, coffee machine, and plenty of natural light. Decorate it beautifully to instill a sense of complete relaxation.
Tech-friendly work environment
Employees love technology. It keeps people working fast and productively, not to mention that it keeps them emotionally connected. Don't forbid your people to use the internet for personal purposes. As long as they do their jobs, there's really no reason to ban Facebook at work. If you can afford, it might be a good idea to buy them tablets. iPads are a little expensive, but they will visibly increase engagement and motivation. Make sure to offer them access to a business platform – Trello is excellent for business.
Weekly teambuilding events
Teambuilding is vital in any company. However not all companies can afford to pay for a 7-day teambuilding event somewhere outside of the city. Nonetheless, this doesn't mean you can't improvise. You can easily set up a friendly event in a restaurant, park or beach. Dress casually and meet to discuss ideas. Treat your employees as equals and make them feel part of a family. They'll grow attached to you and your company, and chances are they won't leave after 1 year.
Outdoor events
Setting up outdoor events is yet another way of keeping employees engaged and motivated. A really nice meeting venue can either be a botanical garden, natural reserve, outdoor restaurant with a terrace or the beach. Make Fridays different for your employees and they'll do their jobs with a lot more enthusiasm. Take them someplace new and refreshing. Revamp the traditional office space and consider outdoor venues for an event. It doesn't have to be an official meeting, and in some cases its better if you surprise them. Working someplace new and totally different from what they're used too increases engagement and it might event compel their brains to come up with new and original ideas for the projects you have pending.
Bottom line is, there are lots of ingenious ideas you can use to make workers feel comfortable. Every now and then CEOs and managers should spice things up in the office. Be as original as possible. If you can't afford a relaxation room, let them go out and don't start screaming if they're late for 10 minutes. Make workers feel part of a connected team, and if they sense that you like their work they will be more than willing to do their jobs beautifully. Rather than create tension, allow the people to know the real you. Be their role model, their teacher, but also their friend.
The following two tabs change content below.
Alfred Stallion has written this article. He is a regular contributor at many sites and mainly focuses on business related topics. He also recommends
https://www.wildernessreserve.com/
for corporate outdoor events.
Latest posts by Stallion Stallion (see all)
Donate To Help Others
Donate to Doctors Without Borders
Check This Offer Out