8 Tips for Holding Efficient and Effective Meetings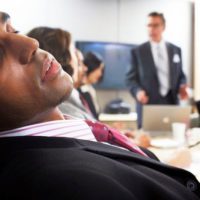 Let me guess, holding meetings is not your favorite thing to do. You feel like you get nowhere and nothing gets accomplished, right? Don't be discouraged. You are not the only one who feels this way. Here are some tips on how to hold more organized and effective meetings.
Have Clear Objectives
We have all been to those meetings where no one seems to know what is going on. They are pointless and seem to drag on without going anywhere. Fix this by making sure that every meeting has a specific and defined purpose. You should know exactly what you want to accomplish. Whether it is to reach a decision on a specific problem, or to implement new rules, you should make sure your objectives are clear so everyone knows what is going on. The more focused your objectives, the more productive your meetings will be.
Create an Agenda
Keep in mind that you can have all the objectives you want, but if you can't stick to a schedule, then you will never reach your goals. Layout everything you want to accomplish in a timeline. Take the time to email your agenda out to everyone who will be attending the meeting so they know exactly what to expect. Before the meeting begins, put your agenda up on a screen where everyone can see it. This will help keep your meeting and the people in it focused and on track. An agenda will keep you from fixating on one point for too long. This in turn will keep your meeting moving and the participants interested.
Only Invite Those Who Need to Be There
This is so important when it comes to having a productive meeting. When the room is full of people who don't need to be there, all you will get are some uninterested stares and boredom that will rub off on the whole room. If there is a change occurring in the office, invite only those who will be affected. If you are holding a problem-solving meeting, then invite those who you know will give good suggestions and who are good sources of information. To make these meetings even more productive, email those who are invited before-hand about what you will be discussing and ask them to think of a possible solution and be ready to share. This will get everyone participating and will hopefully lead you to the solution you are looking for.
Establish Meeting Rules
Really? Rules? Yes, rules. Have you ever been to a meeting where there are no rules? It usually results in one person dominating the conversation and nothing being accomplished. It may even be you, as the meeting coordinator or boss, that dominates the conversation. This is neither helpful nor productive. What is the point of having a meeting if only one person is talking? Make sure that everyone gets the chance to speak. If one person continues to take over the conversation and nothing seems to be getting done, then kindly stop that person and move on with the meeting. Allowing everyone only a few minutes to talk at a time will keep everyone on track and keep them focused on the purpose of the meeting.
Ban Technology
Banning technology should be a part of your meeting rules, however, since it can be such a problem I have put it in a point of its own. Technology is everywhere and it is nearly impossible to avoid. While technology can be very helpful, it can also be harmful in a meeting. Ban cell phones, IPads, and everything else that will take attention away from the meeting. If you don't, I guarantee that at least one person will be emailing, surfing the web, or playing games instead of paying attention.
Begin and End On Time
The most effective meetings are the ones that people know they are eventually going to get out of. No one likes being in a meeting that drags on and on when it should have been over an hour ago. If you make a habit of beginning and ending your meetings on time, then your colleagues will be more likely to come and participate. One hour is generally the longest time any meeting can go and still be productive. Time is valuable. Don't waste it on endless meetings.
Follow Up
Immediately following a meeting, you should email all those who attended and outline what was talked about and the solutions that were reached. If tasks were assigned, then list those in the email along with their deadlines so that everyone is on the same page. This will ensure that nothing is missed and that everything talked about in the meeting will be acted upon instead of forgotten. This will make all your meetings effective because they will actually lead to solutions.
Avoid A Meeting
Last but certainly not least, if you don't need to hold a meeting in order to relay information, then don't. If a discussion is necessary or a decision needs to be reached, then a meeting is the best way to go. However, if the information you want to discuss can be covered in an e-mail then don't hold a meeting. You can schedule a meeting later to answer any questions about the email if you need to. Otherwise, make sure that a meeting is necessary before you schedule one.
Meetings don't have to be frustrating affairs. They can become useful tools in moving your company forward. If you make an effort to implement a few of these tips, then your meetings will become more productive and better able to yield the results that you want.
The following two tabs change content below.
Tresha D. Moreland, MBA, MS, FACHE, SPHR, SSBBP, founder of HR C-Suite, is an HR thought leader in Human Resource Strategic Management. She has held key human resource leadership roles for over 20 years in multiple industries most recently a senior vice president in the healthcare industry. Tresha is the founder and publisher of HR C-Suite (www.hrcsuite.com). HR C-Suite is a game changer results-based HR strategy website. It is a first-of-it's-kind site that organizes HR strategy based on desired business result. She has developed a business philosophy of integrating human resources with business strategy, thus creating a hybrid HR leadership approach. This approach enables the leveraging human resources to achieve business results.
Latest posts by Tresha Moreland (see all)
Donate To Help Others
Donate to Doctors Without Borders
Check This Offer Out